India–France: Strategic Alliance in a Multipolar World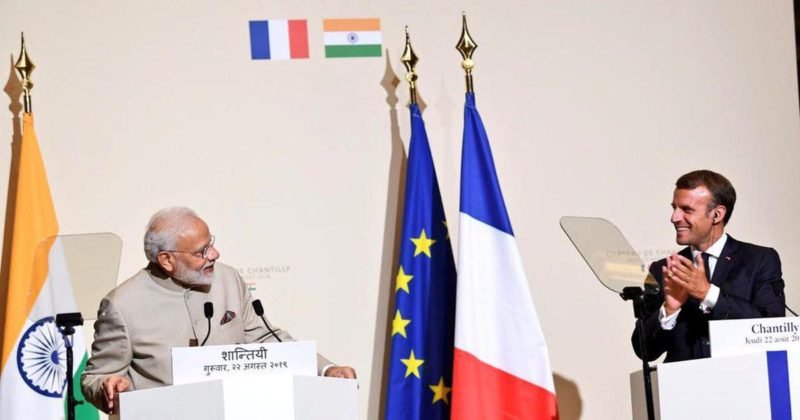 India and France are proponents of a multipolar world led by regional democracies. Traditionally both the nations have been close and friendly, sharing centuries-old history. From the 17th century to 1954, France maintained a colonial influence in the subcontinent, establishing a strategic partnership with India in 1998. Ever since there has been a significant increase in all areas of bilateral cooperation through regular high level and commercial exchanges. France became the first county with which India entered into an agreement on nuclear energy following the waiver given by IAEA and NSG, that enabled India to resume full civil nuclear cooperation with the international community. France bet on India's diplomatic, strategic and economic emergence, steadfastly supporting India's bid for a permanent seat at the United Nations Security Council, better participation in decisions related to G – 8 and G – 20 and accessing the civil nuclear cooperation. France was among the few countries who did not condemn India's 1998 nuclear tests and instead chose to start a strategic dialogue that resulted in a strong partnership in the areas of space, defence, security and civil nuclear cooperation. As a matter of fact, when the US suspended delivery of nuclear fuel to India's Tarapur power plant as an aftermath of the 1974 tests, France stepped in to provide enriched Uranium, thus highlighting that Indo – French relationship has less baggage irrespective of the latter being a colonial power.
For a country that values symbolism as much as India does, the importance of France is noticeable in that, it is the only country whose Presidents have been Chief Guests at the Republic Day parade five times. During the cold war years, India's closest ally was the Soviet Union. But today Russia has closer ties with China and is not cognizant of India's interests when it comes to Pakistan, Afghanistan and terrorism. France has filled the Russian vacuum, thus becoming the new best friend especially after it supported India's stand on Kashmir at the United Nations Security Council closed-door meeting called by China. The French have also backed the UNSC resolution on Masood Azhar and pushed for stronger FATF sanctions on Pakistan. The two countries have strengthened counter-terrorism cooperation since the 2008 Mumbai attacks, with the 2015 France terrorist attacks acting as a fresh catalyst. There is an intensive network between GIGN and NSG of operational exchanges and joint actions between their intelligence and security forces.
The bilateral trade between the two nations has increased significantly over the last fifteen years owing greatly to the aeronautical sector, leading India to surpass France in becoming the fifth largest economy and stands at 10.7 Billion Euros. The dynamism of the Indo – French economic relations springs from the establishment of French companies in India, employing a workforce of around 300,000 people across a wide spectrum of sectors and amassing a turnover of 20 Billion USD. Since the financial crisis of 2008, the share of French investment stock in India has quadrupled, showing the highest growth in the year 2017. France is collaborating with India under the latter's Smart Cities initiative, with many French companies active in twenty Indian cities specializing in the sustainable urban development sector. Defence cooperation between the two countries is multidimensional with institutional exchanges that have profited from sustained political investments made at senior-most levels of decision making. In 2009, a 400 strong Indian contingent participated in the Bastille Day parade along with the then Prime Minister Manmohan Singh in attendance.
France is one of the leading military equipment suppliers to India, providing Dassault Mirage 2000 fighter, DCNS Scorpene-class submarines and 36 Rafael jets. The armed services of both nations conduct joint exercises on an annual basis. The strategic autonomy of French Force de Frappe resonates well within Indian strategic circles. The two countries have signed a logistics agreement whereby they can use each other's naval bases for refuelling, repair etc. They are also working together in Francophone Africa with the aim of identifying developmental activities that can be undertaken by the two together. However, India's goal is to build its domestic defence industry and for that, it needs the USA and Russia as partners from the point of view of high – end technology and foreign investment.
The two nations share a similar strategic outlook, taking pride in their civilizational and cultural heritage. They both are sceptical of American policies, believing in issue-based agreements and disagreements. The fear of isolationist America is what underlines each nations foes and allies in this era. Having said so, the events such as Namaste France and Bonjour India have strengthened not just the diaspora through a cultural platform but has also enhanced the tourism sector in both the nations. India and France seem to have each other's backs and stand united against the common enemies of terrorism, climate change and now the deadly Coronavirus disease. Since France is comfortable with India's strategic autonomy, who has spearheaded the implementation of Paris agreement, Solar alliance and sustainable development goals. France seems to have grown its relationship with India and clearly has become India's new best friend in this hostile world.
The views and opinions expressed in this article are those of the author and do not necessarily reflect the views of The Kootneeti Team