Relevance of SAARC under Modi-Imran Government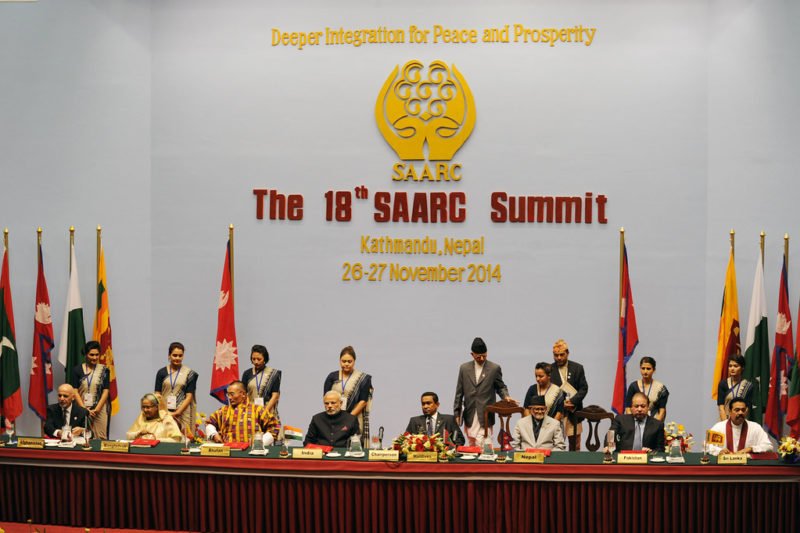 India's foreign policy under the Narendra Modi-led government has witnessed a pragmatic shift and an extraordinary engagement in international politics on a wide range of issues especially focusing on India's strategic realignments. Modi's assertive foreign policy since 2014 has challenged the 'status quo' which was maintained during the Nehruvian period as India become more pro-active in a dynamic international atmosphere.
While the Modi government enjoys its second term, the neighbourhood dilemma continues to prevails for India as a conflict of interest arises on whether India should have a more confident and coordinated approach towards regional organizations like The South Asian Association for Regional Cooperation (SAARC) or make a shift towards BIMSTEC (The Bay of Bengal Initiative for Multi-Sectoral Technical and Economic Cooperation for regional cooperation).
SAARC which came into existence in 1985, have achieved limited success. With 8 member states namely-Afghanistan, Bangladesh, Bhutan, India, the Maldives, Nepal, Pakistan and Sri Lanka- SAARC was set up to enhance regional cooperation. It is aimed at promoting the welfare of the people; accelerating economic growth, social progress and culture development; and strengthening collective self-reliance. The organisation also seeks to contribute to mutual trust and understanding among the member states. However, since it's inception there has been political differences and mistrust among the member states. Even with immense economic potential, SAARC could not harness it to its fullest potential.
The major challenge which is suffered by SAARC is the growing India-Pakistan hostilities. India faces problems with Pakistan over issues of Kashmir, terrorism and nuclear power which slows the free trade in South Asia. The 12th SAARC Summit in 2004 was a breakthrough from the tensions between the two countries as it provided an opportunity to improve relations and move with diplomatic and economic proposals. When Narendra Modi's government came to power in 2014, it focused on the policy of 'neighbourhood first' and embarked on the journey of 'SAARC-yatra' to enhance bilateral prospect and engage in a better dialogue with Pakistan.
However, India reached its threshold of maintaining diplomatic peace with Pakistan after the terrorist attacks in Uri and Pathankot in 2016 and India along with Bangladesh, Bhutan, and Afghanistan pulled out of the 19th SAARC Summit, which was to be hosted by Islamabad. India lost confidence and exercised restrain with its western neighbour. To keep Pakistan in isolation, India ventured into establishing strategic and strong countries with the BITMCS which Pakistan is not a part of, further aiding India's diplomatic attempt of keeping Pakistan and its narrative in isolation in South Asia. India could only do this by making terrorism a central issue of discussion in the region since SAARC failed to take a pro-active stance on the issue of counter-terrorism.
SAARC as a regional organization has failed to effectively ensure peace and stability in the region. It completely overlooks that the issue of terrorism could frame as a base for regional security cooperation among nations.
The complexity between the two rival nations has made regional cooperation very difficult. SAARC does have the potential of becoming a significant political and economic power globally but preserving the status quo in South Asia seems highly unlikely. The mistrust and doubt among the member states get reflected in the failure of the organization to attain objectives. Pakistan in 2016, abandoned India's proposal for a SAARC Satellite calling it an 'India's solo project' even when it worked well within the framework of the organization.
Not being able to meditate properly between member states has also reflected poorly on SAARC's growth. Both India and Pakistan have used it as a platform to call out each other by not attending summits and boycotting speeches reduced SAARC to a talking shop. India is also perceived as a country dominating the region and acting like a 'big brother' rather than a development partner in the organization thus creating an image of a 'bully' for other regional countries.
BIMSTEC has thus become an alternative for India to exclude Pakistan and channel all energies to engage with South and Southeast Asian nations. India's 'Look East' policy thus calls for strategic communication and connectivity with the neighbours. In June 2019, the Foreign Minister of India, S. Jaishankar, unequivocally stated that, while SAARC is afflicted by serious problems, BIMSTEC is progressing on the right path.
Apart from smoother connectivity with neighbouring countries, BIMTEC also offers economic regional benefits for India, especially for its north-eastern states. Connectivity with BIMSTEC would also help India integrate itself with ASEAN's Master Plan of Connectivity 2025. Apart from this, BIMSTEC could also help in addressing India's growing energy demands. India, along with other BIMSTEC countries, is exploring energy opportunities at the Rakhine coast of Myanmar in the northern part of the Bay of Bengal. BIMSTEC has established an energy centre in New Delhi to provide logistic, technical and research support.
India has also decided to pursue a sub-regionalism i.e. an agreement with Bhutan, Bangladesh and Nepal (BBIN MVA) and it is often called 'SAARC minus one' a motor vehicles agreement that envisages seamless transit of passenger and cargo vehicles among these countries. To further enhance regional connectivity BBIN MVA meeting was held on February 08 wherein it was agreed upon the need to expeditiously finalize the Passenger and Cargo Protocols for implementation of the BBIN MVA.
While it seems unlikely that India would return its focus on SAARC, Nepal has offered to mediate between India and Pakistan but SAARC needs to develop a strong mechanism to deal with disputes and address them by creating a base of toleration which would lead to greater cooperation among states.
It still remains to be seen if India changes its approach towards SAARC and if it's still going to stay relevant for India since economic factors have led to India growing connected to its South-eastern neighbours and the benefits seems to be reaping more in BIMSTEC, India cannot be using it as a tool to isolate Pakistan. India needs to revive SAARC and add impetus to BIMSTEC. For the revival of SAARC, other member states must see to it does not become an epitome of a tussle between India and Pakistan yet again.
The views and opinions expressed in this article are those of the author and do not necessarily reflect the views of The Kootneeti Team