The Chinese Umbrella for Terror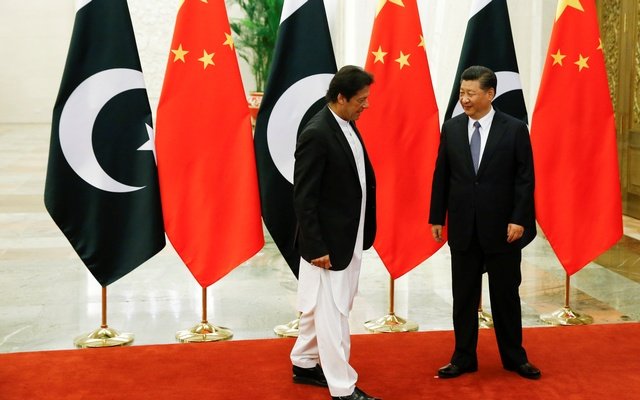 It was the fourth time when China became a hurdle for India in the way to designate Masood Azhar, the Jaish-e-Mohammad (JeM) chief as a global terrorist under the United Nations (UN). This was not much shocking for New Delhi but this time as after the Pulwama attack, it was much expected that Beijing would not take such step which it earlier used to take. After Pulwama attack by JeM terrorist there was a greater requirement that the world should know, who the real culprits behind this are.
Pakistan has become a safe haven for those are the leaders of these many terror outfits including the JeM. India is trying to isolate Pakistan diplomatically. China despite knowing the reality is logistically as well as morally standing with Pakistan. New Delhi has been making global efforts at placing Azhar under the 1267 Al Qaeda Sanctions Committee of the UN Security Council.
Chinese official spokesman Lu Kang, responded the pre fixed response when asked on the question of Masood Azhar that "China has all along participated in relevant discussions in a responsible manner and in strict accordance with the rules of procedure and provisions of the (UN's) 1267 Committee." China sent a note to the UNSC, saying that it needed more time to examine the request. With this Chinese hold, the move has been frozen for the next six months.
Further China tried to justify its act by putting the statement to world that "our action is to make sure that the committee will have enough time to study the matter so that the relevant sides will have time for dialogue and consultation. Only a solution that is acceptable to all sides could fundamentally provide a chance for a lasting solution to the issue. China is ready to communicate and coordinate with all sides including India to properly handle this issue."
This time China's action has diluted a from the previous similar role in earlier efforts – in 2009, 2016 and 2017. As this time the support base for India has gone high as this was clearly seen by the world community that number of co-sponsors of the proposal were bigger in number. This time the proposal was initiated by France, UK and US. The three countries which hold permanent status in the P5 of UNSC. Other countries including Germany, Poland, Belgium, Italy, Bangladesh, Maldives, Bhutan, Equatorial Guinea, Japan and Australia showed their support in response to India's move.
However, China had taken India's side while listing of Lashkar-e-Taiba chief Hafiz Mohammed Saeed and Zaki-ur-Rehman Lakhvi, in 2009, in the wake of the November 2008 Mumbai attack. But in the case of Masood Azhar China claims that there are some technical and procedural issues that are required to be solved before it could support India's move. Islamabad is playing a role in China's decision as CPEC is still under work or can say China has given a huge amount as loan to Pakistan. So this friendship is required to be stabilized and China is not going to abandon its ironclad relationship with Pakistan.
For China, India represents one of the potential challengers to China's dominance of Asia. Both China and Pakistan have been a clear and single-minded approach in their 'shaped policies' to weaken and imbalance India, which has made for one of the most durable and deepest strategic alignments between the duo since the 1950s. 
China has always showed its response by saying that there is "no contradiction" in its policies on terrorism. Just after the Airstrikes by India, China wished for de-escalation from the both sides. The Chinese view is that India and Pakistan should come on table to talk and this should be initiated from India's side. Pakistan on the other way tries to indulge its Organisation of Islamic Nations (OIC) partners.
New Delhi has also taken a major setback this time on China's this act. While expressing its disappointment over the development, India has avoided naming China in its official statement, India's official statement says "a member" of the 1267 Committee had placed the proposal on hold. This could be a small step but in diplomatic arena it has a strong message for world.
After six months India hopes that Beijing would cooperate. Though nothing can be said at this point in time, increasing pressure from the world community and India's resistance can make it possible. China also has a fear that it cannot risk itself being called as the supporter of terrorism. At least, they will do it for the 'sake of their economy'.
New Delhi should also be ready for other results too. The listing by itself does little to restrain either Islamabad or the terrorists. As it has earlier proved only little bit impact as Hafiz Saeed has been on the list since 2009, or that the Jaish as an organization has been on the list since 2001. Terrorism and terrorists are not fought by paper listings, but through some strict measures.
It can be speculated that New Delhi will not respond in any extreme, escalatory manner due to general elections in the country and it would catch the government attention. The whole issue requires some stringent act in the policies towards both the neighbors. There are enough indications that it is not an impossible task. India was able to bring around China to placing Pakistan on the FATF 'grey list' in this manner. And, after all, Beijing did act against Hafiz Saeed and Lakhvi.
India is required to be in a mode where it is more transactional, and perhaps look for things Beijing would like in exchange for the Azhar listing. The global community's response to the Pulwama attack and the Indian response was generally sympathetic. India's symbolic victory on the platform OIC also matters. There are indications that Pakistan's economy is on the verge of collapse and that would at least favor in a way that its other friendly nations would keep themselves away from it as the return from investment in Pakistan would in loss. India just need to take the world in confidence or can say it have to stabilized itself as a emerging power. So that any one couldn't interfere in India's interests.
The views and opinions expressed in this article are those of the author and do not necessarily reflect the views of The Kootneeti Team