Complex Nature of India-Iran Relations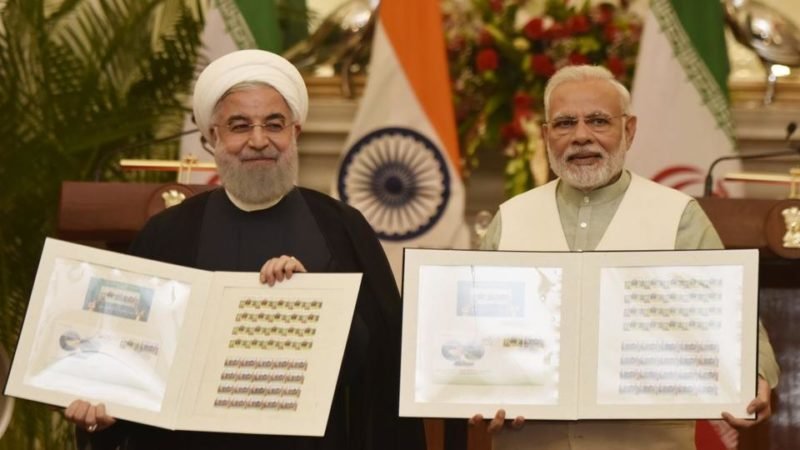 India-Iran relations are full of diplomatic challenges which are time tested. Relations between the two countries are multidimensional with rapprochement in historical, cultural and ethnic areas.
Over time with India's foreign policy being more defence and security-centric and gaining a dominant position, it became crucial for India to consolidate its growth in the international scenario to become a superpower. Hence, India's Act West Policy is crucial for its economic pursuits wherein Iran plays a very powerful role in being the second-largest oil supplier to India and helping India with its energy demands.
Historically, both countries share the legacy of the two ancient civilizations in the same region on cultural and linguistic basis. The Persian legacy in the Indian subcontinent prevailed since the Mughal Empire and but the affinity which the two had were complicated post-independence in 1947 when Iran became the first country which recognized Pakistan as a sovereign country.
India-Iran relations remained cordial during Cold War but India was against Iran joining the 'Baghdad Pact' which was military alliance during the Cold War for it being detrimental in the international scenario while India ventured into establishing Non-Alignment Movement from the two blocs- the US and USSR-during the cold war period.
India, however, supported Iran's Revolution of 1979 which impeded US's interests in the region and called for being non-aligned with any of the emerging blocs but sidelined with Soviet Russia in Afghan invasion to influence Kabul and Iran called for Soviet Troops to leave Afghan. Nonetheless, both countries emerged as regional powers by the end of the Cold War by influencing the proxy wars.
India and Iran's relations were boosted with the Tehran Declaration and Delhi Declaration in 2001 and 2003 respectively. It proved to be a robust development in the field of defence and strategic partnership and global corporation between the two. Both countries have extensive cooperation in the field of security.

On the issue of terrorism, both countries have had significant cooperation. India's foreign policy has been centric to Pakistan and has repeatedly called Pakistan out for its state-sponsored terrorism on various international platforms. Iran sides with India and together both countries share their concern over Pakistan fostering terrorism on its soil.
Iran being a Shi'a Muslim dominated country feels the wrath of the Sunni militancy within its own territory. India being the fourth largest Shi'a Muslim populated country, both India and Iran are mutually concerned with the growing Sunni-Shi'a conflicts, especially in Pakistan. Both countries have security interests aimed at combating extremist groups in Pakistan.
This is extremely crucial for India in order to influence the Iran-Pakistan relations in order to isolate the country in the international scenario and keep an eye on Pakistan's port city of Gwadar by India's presence at the Chabahar port.
However, on the issue of Kashmir, Iran sides with Pakistan's narrative merely because Iran wants to lead within the Islamic nations thus supporting Pakistan in international forums like the Organisation of Islamic Cooperation (OIC) even though there is unanimity among the member states of the organization on the issue of Kashmir.
The relationship is considered very dynamic and is faced by various diplomatic challenges, but India needs to systematically and strategically form cordial relations with other countries in the region in order to gain access in the region.
In order to achieve geopolitical gains, India has invested in Iran's Chabahar Port to gain and easy access in Central Asia, Europe and Russia and Iran's energy sources. The port with providing economic benefits also provides India with an opportunity to look after Pakistan's Gwadar Port which is essential for India to enforce itself over Pakistan.
Another fact which influences India's direction towards West is China's growing footprints in the region for its own economic pursuits but at the same time, it proves to be a threat to India due to the growing closeness of Pakistan and China which may in turn influence India-Iran relations. This scenario has been manipulated by Iran many times because China has always backed Iran when sanctions were imposed from Western countries in the Security Council and vetoed against Iran. Economically, China is the largest exporter of oil from Iran and is an extremely important player in Iran's economy.
In 2005, India voted for the International Atomic Energy Agency (IAEA) resolution finding Iran to be in 'non-compliance' of the safeguard obligation under the Nuclear Non-Proliferation Treaty (NPT) and then it voted to refer Iran to the UNSC in February 2006. which gave a massive blow to India-Iran relations. The Indian government failed to give a clear stance on Iran and voting with the US was highly criticized. India recognizes Iran's development in the nuclear programs however differs on their goal of pursuing.
While upholding the principle of non-alignment, India always finds itself in a dilemma with Iran due to various powerful states that still continue to play a major rule in India-Iran relations. When the United States and European Union imposed sanctions on Iran, India complied with it and limited its oil exports, but India has now shifted to a Rupee Payment Mechanism for oil exchange which is benefitting India save its foreign reserves which have seen hit in India-US nuclear deal.
With sanctions being imposed, India finds strategic alternate sources to meet its energy demands and that is through strengthening its relations with Oman and other countries in the Arabian Peninsula. 
Another challenge which strained India and Iran relations are India's growing strong relations with Israel. In 2016, Israel publicly called out India showing concern over the relations with Iran and pursues India to reduce it's Iran ties through the United States. However, India upholds the principle of "strategic autonomy meaning that it pursues its interests through ties with multiple powers, regardless of their animosity toward each other.

With Gulf nations, India acknowledges of the sensitivities which are faced by the United Arab Emirates (UAE), Bahrain and Saudi Arabia with Iran over a land dispute or over intra-religion conflicts. While India works in its capacity to balance the relations with the countries, the Gulf Cooperation Council are apprehensive of India's relations with Iran and may even overshadow the dialogue in the near future.

It's important for India to have a decisive voice in the international scenario in order to maximize its security an economic pursuits in order to establish itself as a global power. Therefore, India's interest with Iran is beneficiary for India to mark its footprints in the region, but with the rising political turmoil in the international scenario between Iran and the United States over the killing of Iranian military commander Qasem Soleimani, India has called for a de-escalation of tensions.
While the global oil price rose, a rise in tensions between the two countries will hit the Indian economy hard and will lead to slow down to an already jammed economy. For millions of Indian workers who live in the region, their safety is a concern for India if the situation does not die down.
The relation between India and Iran is complicated which is obstructed not only because of regional barriers but also by economic barriers. Regardless, India has been called for de-escalating tensions between the United States and Iran which further adds a challenge to the neutral ground which India perceive it holds.
The views and opinions expressed in this article are those of the author and do not necessarily reflect the views of The Kootneeti Team