Trump's EU envoy has changed his impeachment inquiry testimony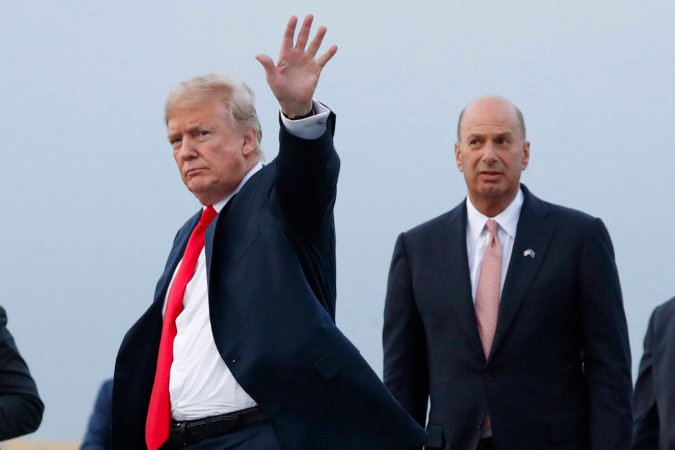 An ally of Donald Trump has changed his impeachment inquiry testimony to confirm that the US president offered Ukraine a quid pro quo to investigate a political rival.
Gordon Sondland, the US ambassador to the European Union, said he had told a senior official in Ukraine that nearly $400m in military aid would probably be withheld until the country announced an investigation into corruption, including allegations concerning a gas company with ties to the former vice-president Joe Biden's son Hunter.
The dramatic revision to Sondland's account was revealed in a four-page transcript of sworn testimony made public on Tuesday.
"I now do recall a conversation on September 1, 2019, in Warsaw with" Andriy Yermak, a top adviser to the president, Volodymyr Zelenskiy, Sondland said in his updated evidence. "I said that resumption of the US aid would likely not occur until Ukraine provided the public anti-corruption statement that we had been discussing for many weeks."
The altered testimony raised eyebrows in Washington. Matthew Miller, a former director of the office of public affairs at the justice department, tweeted: "Helluva thing for Sondland to have forgotten in his first appearance."
Democrats, who have made the quid pro quo offer central to their push for impeachment, seized on the revelations. Chris Murphy, a senator from Connecticut, wrote on Twitter: "Nobody can pretend there's any lingering debate over what happened. It's over. Open and shut. Today, the one guy who said there wasn't a corrupt aid-for-interference deal, changed his story to say that in fact, there was an aid-for-interference deal."
Sondland, a hotelier and Trump mega-donor, has been placed by other witnesses at multiple key crossroads in the Ukraine affair, including at White House meetings on 10 July in which he pursued Ukrainian officials through the building to press the demand for an investigation of Biden.
He testified for more than 10 hours on 17 October to three House committees running the inquiry, which began releasing transcripts this week.
He originally told investigators he took Trump at his word that there was never a quid pro quo attaching aid or a White House visit to investigations. But as additional witnesses testified and more information became public, Sondland appeared to have a change of heart. The week after his deposition, Sondland returned with lawyers to Capitol Hill to "review" his testimony.
The views and opinions expressed in this article are those of the author and do not necessarily reflect the views of The Kootneeti Team