Modi at Future Investment Initiative (FII) Riyadh: What You Need to Know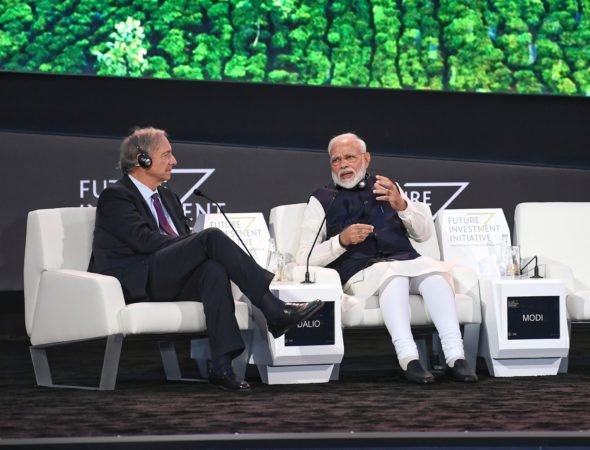 Third Annual Future Investment Initiative by Public Initiative Fund kicks off in Riyadh. KSA is bracing itself for the Crown Prince's 2030 vision. Which aims to reduce its dependence on oil and diversifying its economy to achieve a multisectoral growth model.
Saudi Kingdom's economic reformation is witnessing their interests in the sectors of military, ammunition, manufacturing, health, education and infrastructure.
The Future Investment Initiative (FII) has hosted global leaders, investors and innovators with the power to shape the future of global investment. The summit is focused on utilizing investment to drive growth opportunities, enable innovation and disruptive technologies, and address global challenges.​
The third edition of FII will continue building active, global networks of influential decision-makers to explore the emerging industries that will shape the global economy and investment landscape over the coming decades.​
Indian Prime Minister Narendra Modi in his speech today at FII's third edition, endorsed India's role in investments and economic growth.
Davos of Desert
PM Modi called the investment initiative Davos of Desert and hailed energetic city of Riyadh for the positive wives. He called the Future Investment Initiative a platform not only to discuss the Saudi's economic situation or the region's but a forum to explore new areas of opportunities all around.
Crown Prince Mohammed Bin Salman as 'Brother'
PM Modi hailed Crown Prince and his vision of transforming Saudi by 2030. He called Crown Prince a forward-looking person who's concerned about the world.
India and Saudi share thousands of year of relations, the historical ties were as strong as it is today. PM Modi discusses a Strategic Partnership Council establishment in mutual discussion with Prince MBS. Indian Prime Minister stressed his vision to transform India into a $5 Trillion economy, in order to achieve it he shared 5 emerging global business trends.
Five emerging Business Trends
1. Technology and innovation
Speaking about the newer trends in global business, Indian Prime Minister gave technology and innovation, a top-most priority. He spoke about development in the field of Genetics, Nanotechnology, Future Innovation, Strengthening Startups, Research and Development.
He spoke about tech enterprises and their ecosystem. Prime Minister highlighted India as 3rd largest ecosystem and stressed on the development of tier-2 and tier-3 cities in India. In a range of startups, from food delivery to transport to hospitality, the Indian startup ecosystem is witnessing a sharp rise. He spoke about venture funds importance and startup ecosystems in India and invited investors all across the globe to invest in Indian startups.
2. Global growth infrastructure importance
Infrastructure is another important global trend for business and investment. PM Modi unveils his plan to invest $1.5 Trillion dollars in the Indian infrastructure sector. Also, he highlighted his visionary integration project, under which One nation – One Power, Gas, Water Grids. Centralised Mobility Card and Single Optical Fibre Network will tops the government agenda.
He also ensured the Indian government's vision to provide, house, electricity, water supply for the huge 1.3 billion populace.
Prime Minister Modi ensured a long term return to the investors, planning to invest in the Indian infrastructure development.
3. Skilled Human Resource
Quality and skilled manpower are the necessity of growing environment. PM Modi highlights the challenges for skill development in India. He stressed on the change in the nature of the work environment and endorses his opinion to Learn, Unlearn and Relearn.
Indian Human Resources and Manpower are considered as a skilled and talented one in Saudi and other parts of the world. There's a huge need for skill development in India, especially, when India is aspiring to become a $5 trillion economy.
He suggested skill development programs for 400 Million Indians and assured skill manpower to participate as the engine of Indian economic development.
4. Compassion for environment
Environment-related issues have appeared to be one of the most prominent global trends in ease of doing business anywhere across the globe. Prime Minister Modi highlights the compassion for the environment as the necessity of time. He spoke about Climate Change and highlighted the importance of clean energy.
Indian Prime Minister stressed on an energy consumption pattern and need for energy saving and storage. Environment degradation can't be neglected and while supporting the environment, Prime Minister raises the concern on it and put forward the investment opportunities in the green energy sector.
He also congratulated Aramco for their refinery project in India, which will be Asia's biggest refinery and highlighted the importance of investment in energy for required Indian economic growth.
Interestingly, he presented the figures of Renewable energy produced by in India in 2014, (175GW) and a sharp rise in it by 2019 (450 GW).
5. Business-friendly Government
As the fifth and last emerging business trend, he explained the changing role of the government and future impacts of business-friendly government in investments.
He highlights his agenda of 'Minimum Government and Maximum Governance' which ensures dynamic and promote a competitive and healthy business environment.
He described the role of government as 'Facilitator' for the investors planning to invest in India which will endorse a fair system for growing in the private sector.
He highlights his structural reforms in the Indian market in the last 5 years. Which includes FDI policy liberalisation, Taxation system and structural reforms. Currently, India's IPR regime is comparable with the best business regimes across the world. India's Logistic Performance jumped 10 ranks. Similarly, India saw a quick jump of 24 ranks in the Global Innovation Index and Ease of Doing Business Index which currently ranks at 63, comparing to 2014's rank 142.
Indian Prime Minister endorsed the benefits of investment in the Indian market, he assured a comfortable legal environment for the businesses, while speaking to investors he referred some 1500 laws which were considered as an obstacle while investing in India.
He promoted his idea of digital India by presenting the data from last 4-5 years which suggests the addition of around 350 million new customers in the existing Indian banking network, Unique ID, mobile bank account, direct benefits.
PM Modi also spoke about political stability in India and a business-friendly government with a roadmap for India's economic transformation.
The views and opinions expressed in this article are those of the author and do not necessarily reflect the views of The Kootneeti Team