How has China changed the Indo-Vietnam dynamics?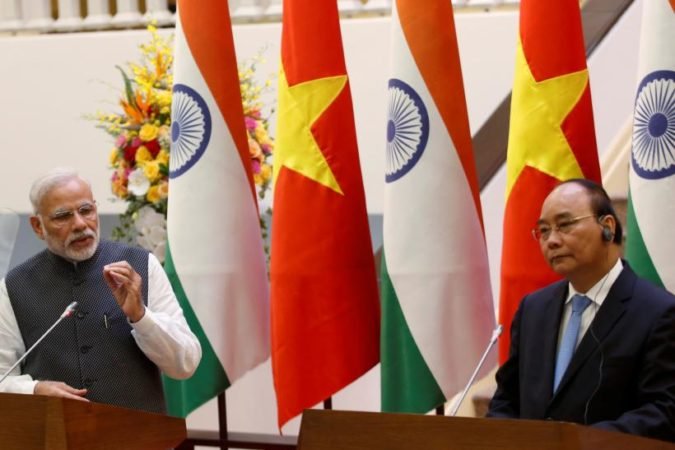 India and Vietnam's age-old friendship goes way back to mid-1900s- the era of struggle for independence, the formation of the two nations and the cordial relationship that was shared between the founding fathers- President Ho Chi Minh (Vietnam) and President Rajendra Prasad and Prime Minister Nehru (India). It would be justified to say that it is indeed a time-tested friendship, owing to the fact that they have stood up for each other in times of crisis. India supported the independence and unification of Vietnam, while also opposing the United States on its atrocities during the Vietnam War in the late 1960s. Regular meetings have helped strengthen the relationship between them. Consequently, trade and economic ties have seen tremendous growth and areas of cooperation have only expanded over time. Further, their cooperation through platforms like the UN, WTO, ASEAN, East Asia Summit, Mekong Ganga Cooperation, the Asia Europe Meeting (ASEM) and India's 'Act East Policy' has given a major boost to their liaison.
China's palpable influence has shaken the geopolitics in the Indo-Pacific region. There is hardly any country which does not have a dispute or an issue with it. Speaking on Vietnam, its claim over the South China Sea alongside countries like Malaysia, the Philippines, Brunei, Taiwan and China itself has led to bitterness in the relationship. India's own share of border disputes is old news. Such a state of affairs has resulted in the formation of many regional organisations to counterbalance the "Dragon Hegemony" in Asia. There has been an increase in cooperation in bilateral as well as multilateral forums. India and Vietnam relationship is one such example of the same. Under the Modi government, their ties have fostered and deepened to new heights in all areas: social, economic and cultural. In fact, the establishment of a Comprehensive Strategic Partnership in 2016 remains one of the most important platforms of discussion between the two.
Coming to trade, there has been a substantial surge in bilateral trade. The trade which amounted to $7.8 billion in 2015 saw it multiply to a whopping $14 billion in 2018 and is further expected to hit $15 billion by 2020. In 2019, India was placed 22nd among the countries who invested in Vietnam with a sum of $28.44 million. It maintains its position among the 10 biggest foreign investors in the country with 223 projects with the capital of $913.33 million as of April 2019.
India and Vietnam share robust defence cooperation. For more than a decade, they have been holding defence policy dialogues annually at the deputy ministerial level to discuss issues on bilateral, regional and international levels of mutual interest. The latest dialogue was held in Ho Chi Minh City, Vietnam on October 3, 2019. They have also committed to conducting regular exercises and training in the defence sector. They held their first six-day long military exercise in Madhya Pradesh on January 29, 2018.
India has considerable investments in the fields of energy, industry park infrastructure development, IT, pharmaceuticals, and agriculture. They have further planned to bolster trade and investments in the textile industry, marble mining, sugar processing in Vietnam, promote tourism and enhance people-to-people exchanges.
"Dragon Hegemony"
As mentioned above, Vietnam has its own share of issues with China, the South China Sea dispute being one among the many. Vanguard Bank is another area of contention where they frequently have long-standing maritime tensions with China trying to stop Vietnam from exploring in the disputed territory. However, the country is still dependent on China for various reasons, inadvertently or inevitably. Also with China's increasing proximity, India's stance in the country is under threat. Of late, Chinese products have been losing their credibility in the US due to tariffs and trade barriers. As a result, Vietnam will be seeing a lot of Chinese manufacturing units, real estates and infrastructure in its land.
India also faces stiff competition as a supplier of raw materials in Vietnam's textiles and garments industry. While earlier it was an important exporter of the same, China, the world's largest textile and garment exporter has taken over the position.
India's occasional hand-over of concessional Lines of Credit for defence industry cooperation and implementing other socio-cultural infrastructure projects in Vietnam is commendable. However, the interest rate of 1.75% for 20 years is relatively higher than that provided by China, Japan and Korea. This has seen a tilt India to East Asian countries.
Taking about finance and investments, India may be in the top 10 but China is usually among the top ten sources of foreign investment in Vietnam. Its total registered capital increased from $700 million in 2011 to $2.4 billion, three-fold increase with an annual growth rate of 18%. In recent years, it has diversified its investments from light industry and consumer sectors towards construction, manufacturing, processing and large construction projects and projects in the energy sector.
Scope for cooperation
Though New Delhi is already investing a generous amount in Vietnam, there are few other areas where it could expand its investments, which could prove beneficial for both parties. Vietnam is one country, entirely dependent on fossil fuels, which already seems to be going scarce. This would consequently lead to stagnancy in economic growth as the country does not have proper access or technologies to generate renewable energy. India could invest in this area, which could bring down a lot of pressure from the non-renewable sector.
India ranks as one of the major exporters of pharmaceutical products to Vietnam. However, there has been very little progress since 2017 due to issues that have arisen between the exporters and the companies bidding them. India can work to set up manufacturing units in Vietnam to avoid such mishaps so that there is no blockage to the manufacturing and flow of commodities. Not just pharmaceuticals, India could also set up infrastructures for health facilities like hospitals and trading the medical staff as the ratio between the increasing demand for health services and the delivery is unequal. This would fill the employment gap in India to some extent.
While India has already taken steps to invest in the textile industry, it could do the same in marble mining and sugar processing too.
The road ahead
Vietnam is an important country for India's "Act East" policy. The former's advantageous access to ASEAN and other developed markets makes it a pivotal partner for the latter. They do share mutual apprehension towards China's assertiveness. However, Indo-Vietnam ties should not be looked only through the prism of countering China. They have the capability to contribute to peace and stability in the region. With their friendship has stood the test of time, they can become an epitome of new-age friendship, standing strong against all odds.
---
References:
The Asian experience II: India and Vietnam. (2019). Institutional Adjustment for Economic Growth, 81–122. doi: 10.4324/9780429441561-5
Vo, X. V. (2017). Vietnam–India Maritime Cooperation. Maritime Affairs: Journal of the National Maritime Foundation of India, 13(1), 63–72. doi: 10.1080/09733159.2017.1315888
The Dynamic Societies of China and Vietnam. (n.d.). Civil Society Networks in China and Vietnam. doi: 10.1057/9780230380219.0004
The views and opinions expressed in this article are those of the author and do not necessarily reflect the views of The Kootneeti Team