The United States pulling out troops from Syria ahead of Turkish attacks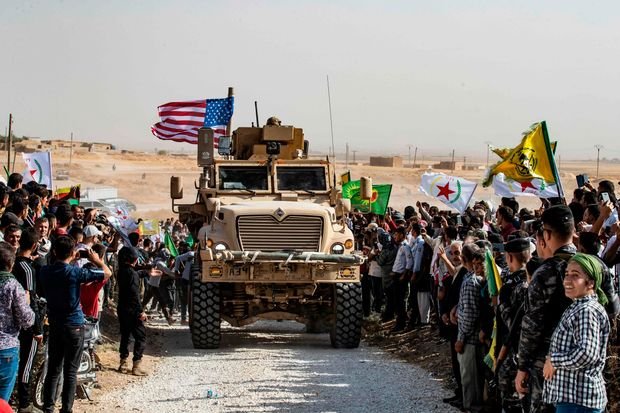 The United States who once was backing YPG Kurds in Syria has been compromised by Turkey. It will be pulling out its troops ahead of the attacks by the Turkish army in northeastern Syria.
Turkey portrays YPG fighters as terrorists. However, the United States and the western media has always been supportive of the Kurdish fighters and backed them in the Syrian civil war.
It will be a major policy shift in Washington's policy in the Middle East. This compromise by the United States will open the way for a Turkish offensive against Kurdish-led forces and hands Turkey responsibility for thousands of Islamic State captives.
Earlier, the United States helped the YPG Kurds defeat Islamic State militants in Syria and had been seeking a joint 'security mechanism' with Turkey along the border to meet Turkey's security needs without threatening the SDF.
The move angered the Kurdish-led forces who have been Washington's most capable partner in fighting Islamic State in Syria. The forces, known as the Syrian Democratic Forces (SDF), accused Washington of reneging on an ally, warning it would have a "great negative" impact on the war against the jihadists.
Reflecting concern about potential harm to civilians, a U.N. official said civilians must be spared in any Turkish military operation in northeast Syria, adding the United Nations hoped that displacement and atrocities can be prevented.
"We are hoping for the best but preparing for the worst," Panos Moumtzis, U.N. regional humanitarian coordinator for the Syria crisis, told reporters in Geneva.
A U.S. official said American troops had withdrawn from two observation posts on the border, at Tel Abyad and Ras al-Ain, and had told the commander of the SDF that the United States would not defend the SDF from an imminent Turkish offensive.
"Turkey will soon be moving forward with its long-planned operation into Northern Syria," the White House said after President Donald Trump spoke to Turkey's President Tayyip Erdogan on Sunday.
"The United States Armed Forces will not support or be involved in the operation, and United States forces, having defeated the ISIS territorial "Caliphate", will no longer be in the immediate area," it added in a statement.
Turkey has long argued for the establishment of a 20-mile (32 km) "safe zone" along the border, under Turkish control, driving back the Syrian Kurdish YPG militia – which is the dominant force in the SDF alliance and which Ankara considers a terrorist organisation and a threat to its national security.
The views and opinions expressed in this article are those of the author and do not necessarily reflect the views of The Kootneeti Team