Afghans defy Taliban threat to vote in presidetial elections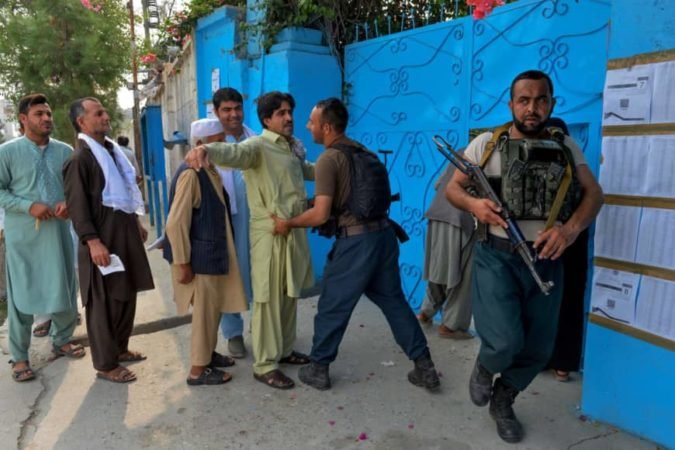 Amidst small attacks by Taliban terrorists on the polling stations, tight security ensured Afghan presidential polls go in a smooth and relatively calm manner. However, the lower turnout and complaints about the voting process could push the country into chaos and another round of uncertainty.
Preliminary results for the Afghanistan Presidential elections are expected in the second half of October and final results by early November. If no candidate will secure a minimum 51% of the votes, then the second round of polls will be contested among the two leading candidates
Afghanistan's Independent Election Commission (IEC) in a statement said, "This election was the healthiest and fairest election in comparison to the previous elections."
In this, unique festival of democracy, tens of thousands of brave Afghan confronted the threat possessed by Taliban and defied any warnings of terror attack ensuring their participation in electing their president in a democratic manner.
However, Taliban terrorist attacked several polling stations across the country to try to derail the process, but intense security prevented the large-scale violence of previous polls. It proved to be a major test of the Western-backed government's ability to protect democracy against Taliban attempts to derail it.
Two policemen and one civilian were killed in mostly small-scale Taliban attacks, the defence ministry said, adding 37 people were injured.
A response to Talibani extremism
Taliban, The radical Islamist group, which controls more of the country than at any time since its regime collapsed in 2001, had warned the more than nine million Afghan voters to boycott elections or face dire consequences.
Today's presidential polls are the fourth since the Taliban regime was toppled.
Over a dozen candidates are vying for the presidency, led by incumbent Ashraf Ghani and his former deputy Abdullah Abdullah.
The winner will play a crucial role in the country's quest to end the long going war with Taliban and any resumption of talks between the militant Islamist group and the United States, which were called off this month, after attacks by the Taliban leading to the death of 12 people including one U.S. soldier.
Hundreds of voters complained their names were missing from voters' lists or the biometric devices used to prevent fraud. Addressing those concerns, the Independent Election Commission eased restrictions, allowing anyone with election stickers on their national identity cards to vote.
Taliban attacks on polling stations
According to media reports, Taliban incited few small-scale attacks included an explosion at a polling station in a mosque in the southern city of Kandahar which wounded 16 people.
The militant group said its fighters attacked polling stations in Laghman province, in eastern Afghanistan. Officials said four explosions in the eastern city of Jalalabad, in which one person was killed, disrupted voting at some stations.
Blasts also hit Kabul and Ghazni, officials said, while more than 400 polling centres remained closed because they were in areas under Taliban control.
Western diplomats said the scale of the militant group's attacks would determine whether talks with Washington resumed.
The views and opinions expressed in this article are those of the author and do not necessarily reflect the views of The Kootneeti Team