Thousands of Filipinos Marched in a May Day rally against Duterte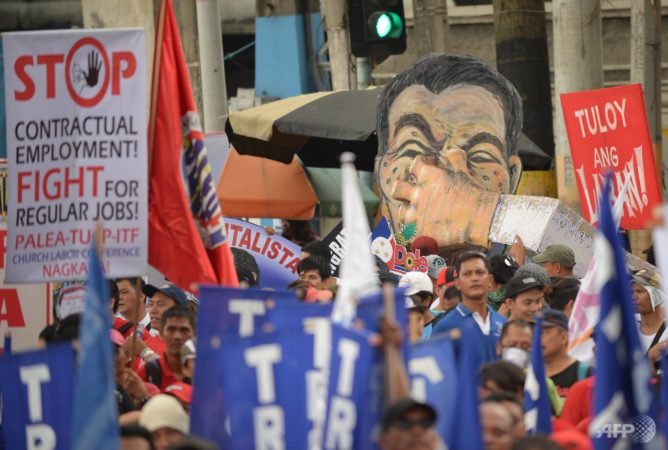 Thousands of Filipinos marched in May Day rallies on May 1, torching a giant effigy of Philippines President Rodrigo Duterte. It was a symbolic attack on Duterte's economic policies' impact on the nation's poor.
Rows of protestors flew red banners and chanted slogans in front of the presidential palace in Manila, where they set fire to the horned effigy adorned with American and Chinese flags — the two competing giants in the Philippines.
"We continue to call on the government to give a reasonable and surviving wage not only for us teachers but for all the workers in this country," demonstrator Alex Legaspi, an educator for 30 years, told AFP.
Manila Police reported about 8,200 marchers attended "generally non-violent and law-abiding" rallies nationwide, with the majority in the capital Manila.
The Filipino economy is one of the strongest in Asia and specifically in South East Asia, with a growth that is consistently above six percent. However, in a nation of around 100 million people, around a quarter lives in poverty.
Protestors were particularly outraged and concerned at President Duterte's incompetency to outlaw employers violating short-term employment contracts, despite a 2016 campaign promise by Duterte to bring-in strong regulations.
Workers in the Philippines get less privileges and protections under the practice, which is widely referred to as "contractualisation".
"All of the workers with contractual employment should now be regularised since it was the promise of President Duterte," said 43-year-old Mimi Doringo, a union organiser to media.
The economy is an effect that has earlier made a dent the high approval ratings credited to Duterte by various opinion polls.
Escalating inflation and a hike in prices for national staple food rice last year became a political liability before being tamed by central bank rate hikes and dropping oil prices.
The views and opinions expressed in this article are those of the author and do not necessarily reflect the views of The Kootneeti Team