Cohen's Testimony: Is Trump Culpable?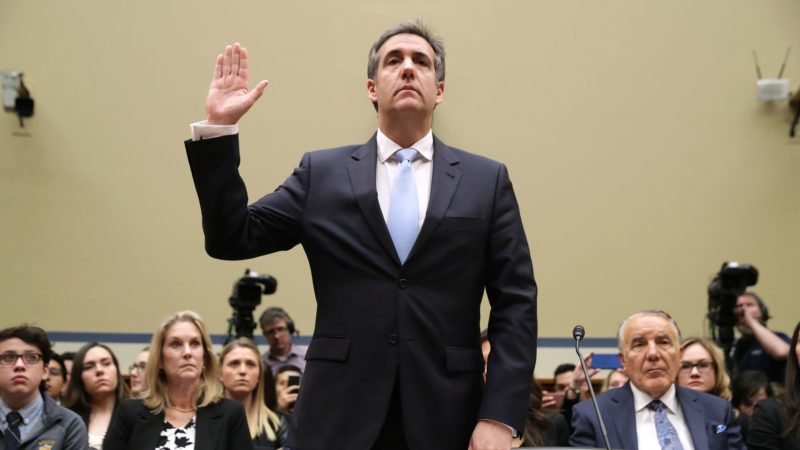 As everyone is aware of, recently, Michael Cohen said that he had been blindly following President Donald Trump and anyone who would follow him will face the same consequences as he did. Michael Cohn came to Congress as 'Con-man' and maybe as a criminal, Trump's age-old mouthpiece had given doubters a plenty of doubts to chew on. Cohen arrived at House oversight and spoke about his own dealings with the President. Cohen has to witness three years of imprisonment as there have been many questions about his believability as that of his previous boss whom he said to be a racist and cheater.
Cohen who once bragged that he would take a bullet for the president claimed that Trump supported him to lie to Congress in 2017 about the pursuit of Moscow tower project; ordered silent money transaction to women in violation of campaign finance laws and knew beforehand that Wikileaks would release stolen emails from Hillary Clinton. Cohen linked Trump to criminal investigations that materialized over his presidency.
While Chairman Elijah Cummings D-Md, billed the extraordinary hearing as who to believe? Some are saying that Cohen who was supporting Trump all the time before, how can they believe in him now.
To this Trump has given some contradictory statements. Firstly, he said that he did not know anything about secret money deals and also about quieting women who alleged affairs, firstly saying that he did not know anything about these things and then admitted that he did them. He accepted when Cohen asked the Congress to have a check on the copies with Trump's particular signature to which Cohen had asked him to repay the secret money deals. Both Republicans and Democrats firstly did not believe in Cohen's words and have said now if his words may be distrusted now.
Trump's campaign has portrayed Cohen to be a nincompoop, liar and a deprived lawyer who lied to the Congress. Kayleigh McEnany said that this is the same Cohen who had once lied to the Congress so what's the need to trust him this time. The Republicans have said that throughout his tenure, he had been lying to Congress and so this time too he has lied as to get a lighter imprisonment.
However, Elizabeth de la Vega, a federal prosecutor of 20 years, said that everyone was attacking Cohen's character and that the Conservatives did not seem to discourse the nature of Cohen's allegations.
But to prove himself right, Cohen brought some copies which had Trump's signature in an agreement which was repayment for a hush money which had dealings with porn star Stormy Daniels after she accused the President to have an affair with her. He also provided some copies of Trump's documents dealing Trump's finances for several years saying that Trump inflated his assets to get some better insurance rates and loans from the bank. The documents offer some truth in Cohen's claims, specifically that Trump has compensated him for the 2016 payments.
However, the process of decision is still going on. All are uncertain about Cohen's claims.
The views and opinions expressed in this article are those of the author and do not necessarily reflect the views of The Kootneeti Team