All you need to know about Indian Air Force Strike on Pakistan based JeM camps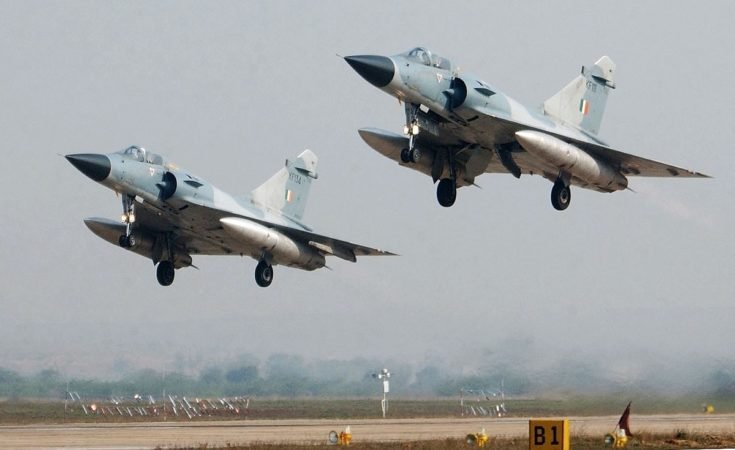 In a retaliatory action for recent Phulwama attack, Indian Air Force destroyed a terror camp run by JeM in Balakot, Pakistan. Pakistan Foreign Minister Shah Mahmood Qureshi said it would give an "appropriate response" to India's "aggression".
Indian Air Force sources told media that close to 3:30 am, around 12 Mirage jets took part in an operation that dropped 1,000 kg bombs on "terror camps across Line of Control".
Background
A suicide bombing attack on a CRPF (Indian Forces) convoy in Pulwama region of Jammu & Kashmir killed 40 CRPF paramilitary troopers on February 14, 2019. Pakistan based terror Organisation – Jaish-e-Mohammad had claimed responsibility for the attack.
A huge political outcry was observed in India after the Pulwama terror attack. Seeing the public anger, Prime Minister Narendra Modi not only condemned the attack on CRPF personnel but also gave security forces free hand to retaliate against the heinous attack planned by cross-border terror outfit, that killed 40 paramilitary troopers
Operation Balakot
Indian Air Force struck a major Jaish-e-Mohammad (JeM) terror camps across the Line of Control (LoC) in Balakot in the early hours of Tuesday, Indian Foreign Secretary Vijay Gokhale said in a press brief.
Gokhale said intelligence reports confirmed that the JeM was preparing to follow up the Pulwama terror attack with a wave of suicide attacks in various parts of the country.

"Credible intelligence was received that JeM was attempting another suicide terror attack in various parts of the country, and the fidayeen jihadis were being trained for this purpose. In the face of imminent danger, a preemptive strike became absolutely necessary," he said.
Casualities
The strike on the terror camp, Gokhale said, killed a large number of JeM terrorists, trainers, and senior commanders. The camp was run by Maulana Yousuf Azhar, the brother-in-law of JeM chief Masood Azhar, where groups of Jihadis were being trained for fidayeen action, according to Indian intelligence inputs.
No official numbers have been released by the Indian side.  However, different sources have claimed it between 200-300. 
Describing today's strike as "non-military, preemptive action", Indian foreign secretary said the terror camp in Balakot was chosen as the target since it was far away from civilian presence.
Indian Foreign Secretary also accused Pakistan for violating their solemn commitment in January 2004 of not allowing its soil or territory under its control to be used for terrorism against India.
Gokhale said "We expect that Pakistan lives up to its public commitment and takes follow up actions to dismantle all JeM and other camps and hold the terrorists accountable for the actions."
Pakistani Reaction
News of the air strike emerged, ironically, from Pakistan with its military spokesperson claiming earlier in the morning that Indian planes had entered Pakistani airspace, that they had been intercepted and released their "payload early", without any casualties.
Contradicting Official Statement, Secretary General of Pakistani Awami Teheek, Khurram Nawaz Gandapur raised questions on the Pakistan Air Force for their failure in intercepting incoming Indian Air Force jets. Nawaz tweeted "How did the Indian Aircraft get as deep as Balakot without INTERCEPTION by any PAF Aircraft? Balakot is almost 50 miles inside Pakistan Territory!!!!"
Pakistan's foreign minister Qureshi said that local and international media would be taken to the site of the bombing. "The helicopters are ready. If the weather permits, then they will be taken there so they could inspect themselves and expose the Indian propaganda," he said.
He stated that the international community will be "engaged" at the level of the foreign office and prime minister. At today's meeting of the OIC contact group on Kashmir, "we will present Pakistan's point of view at that forum", he added.
In the evening, Pakistan's acting foreign secretary summoned India's deputy high commissioner Gaurav Ahluwalia over eight Indian aircraft violating "Pakistan's sovereignty and territorial integrity" at 2:54 am on February 26. India's high commissioner Ajay Bisaria has been in Delhi for "consultations" after the Pulwama attack.
EAM Sushma Swaraj speaks to counterparts
External Affairs Minister Sushma Swaraj Tuesday spoke to her counterparts in the US, China, Singapore, Bangladesh and Afghanistan and briefed them about the pre-dawn strike on the Jaish-e-Mohammed terrorist training camp in Pakistan, official sources said. In her telephonic conversation with US Secretary of Mike Pompeo, Swaraj explained the reasons behind the strike and conveyed that the action was specifically targeted at the JeM camp.
She also spoke to Chinese Foreign Minister Wang Yi and apprised him about the "non-military, preemptive air strikes " , the sources said.
They said she also briefed her counterparts from Singapore, Bangladesh and Afghanistan on the strike.
Separately, the Foreign Secretary apprised the envoys of all major countries including from the United States, Russia, China, France and the United Kingdom, the sources said.
More updates to follow. Stay tuned!!
The views and opinions expressed in this article are those of the author and do not necessarily reflect the views of The Kootneeti Team