Chinese destroyer's 'unsafe' interaction with USS Decatur in South China Sea seen in stunning photos
A Chinese destroyer came a stone's throw away from a U.S. Navy ship as the American vessel sailed near disputed islands in the South China Sea, stunning photos released Tuesday showed.
In the photos, first obtained by gcaptain.com, the People's Republic of China destroyer Luoyang is seen within 45 yards of the USS Decatur before the U.S. ship is forced to veer away to avoid a collision near the Gaven Reefs on Sunday, U.S. Pacific Fleet spokesman Lt. Cmdr. Tim Gorman said.
The photos were deemed to be legitimate, but it wasn't clear how they were obtained, a U.S. Navy official told Stars and Stripes.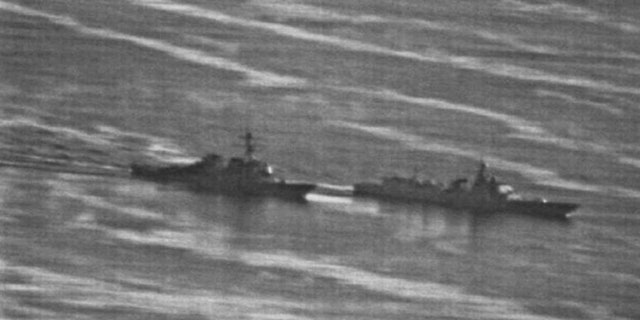 The destroyer conducted an "an unsafe and unprofessional manoeuvre," Gorman said. He added the Chinese ship conducted a series of increasingly aggressive manoeuvres that were accompanied by warnings urging the Decatur to depart.
The USS Decatur, a guided-missile destroyer, was conducting a freedom of navigation operation in the South China Sea, a U.S. defence official told Fox News in a statement. The operation was conducted to "uphold the rights and freedoms of all states under international law. Decatur sailed within 12 nautical miles of Gaven and Johnson Reefs in the Spratly Islands," the official said.
China claims the rights to most of the strategic waterway and has built man-made islands on reefs and equipped them with airstrips, radar domes and missile systems.
China opposed the U.S. warship's entry into the waters around the reefs, the Chinese defence ministry said in a statement Tuesday. Chinese officials confirmed it sent the Luoyang to drive the USS Decatur away and urged the U.S. to stop its "provocative" actions.
Fox News' Lucas Tomlinson and the Associated Press contributed to this report.
The Kootneeti Indo-Pacific Team
The views and opinions expressed in this article are those of the author and do not necessarily reflect the views of The Kootneeti Team