Pakistan Seeking Ceasefire with India: Ploy to Release International Pressure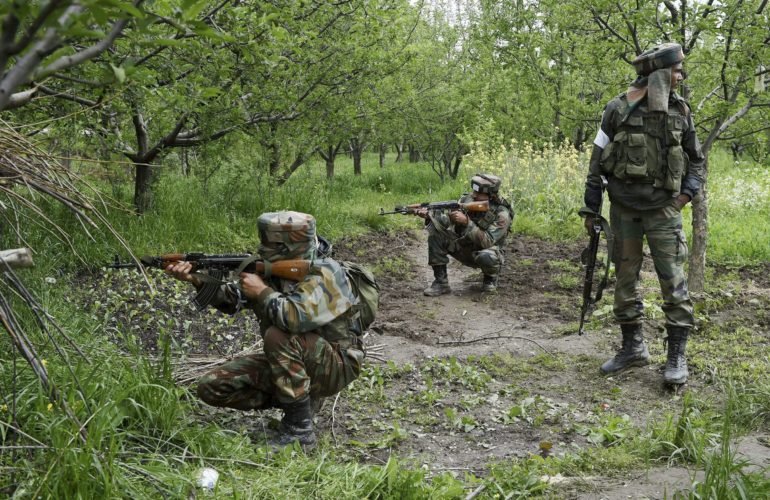 Due to internal instability, Pakistan Army could project itself as the only option available to protect their country against India; hence they justify holding the reins of power. Their influence and relevance are due to 'Indian threat' and a 'Boiling Kashmir valley', hence a peaceful Kashmir does not suit them. – Maj. Gen S.B. Asthana SM, VSM
The newsbreak of Indian and Pakistani Director General Military Operations (DGMOs) agreeing to "fully implement the 2003 ceasefire understanding in letter and spirit", through a special hotline talk, by media of both countries, comes as a pleasant surprise to affected population, more so after Indian Foreign Minister indicated that dialogue and terror cannot go together a day earlier.
The idea of resolving issues through hotline and flag meeting is not new and has failed many times in past, however it may give a temporary relief to the affected innocent people on the borders/Line of Control, till Pakistan releases the existing temporary international pressure on it, to abrogate ceasefire again.
Why is Pakistan talking about Peace?
It was well known to the entire global community that Pakistan is the largest breeding ground for terrorists in the world with the maximum variety of terrorists and well-structured terror industry since many years, sponsored by Pakistani Army and ISI. The pressure however started building on them only after it fell out of step with the US for not taking adequate actions against Haqqani network and al-Qaeda. The list of UN-declared global terrorists expanded, and President Trump declared new South Asia Policy putting them under financial and diplomatic pressure.
Pakistan temporarily chose to sit in China's lap to withstand US pressure, but China too not very happy with refueling of ETIM operating in Xinjiang by Pakistani militants, are carrying on with them due to heavy investment pull of CPEC in Pakistan, and choose to keep quiet, with the precondition of protection to their men working on the project. During BRICS Summit, China too reluctantly agreed to name LeT and JeM as terror groups. China under the international pressure of supporting radicalized Pakistan, felt the heat when the threat of Financial Action Task Force (FATF) declaring it grey/ black became evident. China has understood that CPEC cannot progress unless Pakistan sees some sense in peace and takes some concrete measures to showcase it. The biggest problem is that if Pakistan is declared grey/black by FATF in June then most of the investors for CPEC, including Chinese enterprises may back out of the project. Despite Chinese denial a possibility of them having advised Pakistan Army to see sense is a reasonable possibility, otherwise expecting Pakistani Army Chief indicating to talk peace, and rumours of Chinese advice to move Hafiz Saeed to West Asia, cannot be without a pressure. Pakistan on the other hand finds the political cost of shifting Hafiz Saeed too heavy and continue to try to give him backdoor entry into politics with LeT fully aligned to Pakistan Army and ISI.
Why Pakistan's Adherence to Ceasefire and Peace is 'Too good to be true'?
The peace between India- Pakistan is, unfortunately, marred with an inseparable historic baggage of animosity, military coups and resultant instability which continues even now. The 1971 war, besides dividing Pakistan leading to the creation of Bangladesh, resulted in 90,000 Prisoners of War for the victorious Indian Army. Pakistan Army could never forget it and keeps trying to wipe this scar. Today the same generation of the military is not in power, but the thought to avenge professional shame is alive with their military.
President Zia's 'Islamic Republic of Pakistan' became breeding ground for Islamic terrorism. With Taliban and Wahhabism in the rise, Pakistan witnessed a change in psyche and ideology through madarsas. Kashmir is an obvious target to avenge. The ethnic cleansing of people of Baluchistan and Pashtuns makes Pakistan further unstable. Due to internal instability, Pakistan Army could project itself as the only option available to protect their country against India; hence they justify holding the reins of power. Their influence and relevance are due to 'Indian threat' and a 'Boiling Kashmir valley', hence a peaceful Kashmir does not suit them.
President Musharraf further nurtured militants, used them in proxy wars, as 'strategic assets' and this reality has not changed. In this backdrop, every effort for peace is expected to fail. With Pakistan giving a ruling about Gilgit-Baltistan which is a sovereign territory of India, I do not see any peacefulness in Indo-Pak relations in near future.
Did Non-Initiation of Combat Operations (NICO) have any Impact on Ceasefire?
The ideas like ceasefire and declaration of NICO were tried earlier in the year 2000 but failed. Pakistan neither reciprocated the gesture nor promised to hold fire. In fact, they started the trans-border firing on the first day of Ramzan. It was expected that with development and 'Embracing Kashmiris' by suspending combat operations during Ramzan will alienate the population against militants trying to disturb the peace. In the present declaration, the deployment and intelligence grid of security forces' is not being disturbed, but they can take retaliatory action, only if militants fire at them. The fact that declaration was rejected by terrorist groups, who intend continuing their actions during the holy month of Ramzan, as well as separatist groups enjoying state protection, means that it is waiting to fail, as their narrative has been written by Pakistan. Let me analyse the possibilities under the present model of NICO:
• The expectation of peace through NICO is a misconception, because the militants, especially Pakistanis cause innumerable atrocities on innocent people of Kashmir, but no one lodges complaint/FIR against them, as they know that the entire family will be wiped out. Abu Dujana is a case in point.
• The militants can move freely, kill some informers and terrorise the rest, as they know that security forces cannot do anything till they actually fire at them. Terrorists are free to extort, launder money and muster enough funds for subsequent operations. They can carry out recruitment of young boys into their outfit by luring them or terrorising their parents.
How should India Respond to Changing Realities?
As there are no easy answers for a lasting peace between India and Pakistan, India cannot afford to put its guard down on account of the ceasefire. India should not be talking to Pakistan unless it shuns proxy war. India needs to declare a well-thought state policy on the subject because any wavering of stance can be construed as a weakness. War with Pakistan is not a worthwhile economical option, but India can look at overt and covert options against militants. While India expects the entire world to declare Pakistan a terror state, it is yet to scrap the 'Most Favored Nation' status accorded to it. India should also take up the issue of Baluchistan in all world forums along with terrorism brewing in Pakistan. India needs to use the leverage of water sharing also with Pakistan. Internally, the decision makers need to have an honest intention to resolve it. The allurement of vote bank politics has to be subordinated to the national interest.
The views and opinions expressed in this article are those of the author and do not necessarily reflect the views of The Kootneeti Team