Modi's Defence Diplomacy: A New Chapter in Indo-US Ties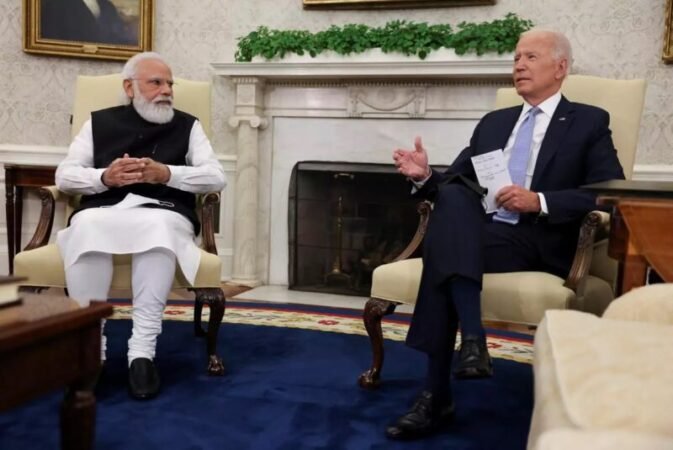 In the run-up to Modi's State Visit to the US on Wednesday, June 21, 2023, US business leaders are excited over prospects of deeper Indo-US technological convergence in such sectors as semiconductors, cyber security, telecom, 5G and 6G, and defence.
On Tuesday, June 13, 2023, addressing a gathering of top American corporate leadership at the annual India Ideas Summit ahead of Modi's visit, US-India Business Council (USIBC) president Atul Keshap said American companies support India's ambitions and align with its national interests. The summit was the largest gathering of Indian and US CEOs, before the State Visit. He said the plan was to raise the quantum of trade as rapidly as possible to USD 500 billion.
"I'd like to see more defence deals. Defence deals are really important for deterrence. When we host Indus X next week, we're gonna try to see how that startup incubator of ideas and convergence can have even more impact on the US-India relations," Keshap said.
Modi, during his State Visit, will discuss pending defence deals with US officials. India and the US are discussing ways to co-produce defence equipment. This would help India become self-sufficient in defence production, which is one of its long-term goals. As the two countries deepen their defence cooperation, these agreements and co-production initiatives could strengthen their bilateral ties and contribute to regional security and stability.
India has hiked its spending on military purchases in recent years. It is now one of the world's top spenders on defence. It is also working to develop its own indigenous weapons and defence systems. India and the US could discuss the following defence deals:
The MQ-9B Predator Drones Deal
The US wants to finalize the deal to sell MQ-9B Predator drones to India during Modi's Wasjington visit. The Indian armed forces are in talks with the US to buy these MQ-9B Predator drones. The number of drones needed is still being decided. The Indian Navy had initially asked for 30 drones. But, last year, the Navy Chief hinted that the number might need to be reduced.
Army & Navy's Interest in Drones
The Indian Navy leased two MQ-9B Sea Guardian drones from General Atomics in 2020 after the Galwan Valley clashes. The lease has been extended and the drones are now being used for land and maritime surveillance operations in the Indian Ocean Region (IOR). They have also operated alongside the P-8 aircraft from Boeing.
The Indian Navy and the US are working together to monitor the growing presence of Chinese boats in the Indian Ocean Region. The US has agreed to sell India 30 MQ-9B Sea Guardian drones for $ 3 billion and will be through Foreign Military Sales (FMS).
India needs to be able to monitor its vast coastline and expanding maritime interests. The MQ-9 Predator drones can help in this by providing maritime surveillance, detecting illegal activities and supporting maritime security operations. By acquiring these drones, India can improve its defence capabilities, intelligence gathering and situational awareness.
Upgrading M-777 Light Howitzer Guns
The Indian Army already uses these guns and the US has proposed an upgrade that will significantly increase their range. This will give the army greater firepower and flexibility on the battlefield.
Producing GE-F414 Fighter Jet Engines
India is planning to produce GE-F414 fighter jet engines under license. This will help India produce its own engines for the Tejas Mk2 and future Indian Navy warships. This will help India become more self-reliant in defence manufacturing.
Stryker Armoured Personnel Carrier
India and the United States are exploring the possibility of jointly producing the Stryker armoured personnel carrier. This would replace the Russian BMP-2s currently used by the Indian Army. The collaboration would benefit both countries by meeting India's defence needs and promoting local manufacturing and technology transfer.
More F/A-18 Super Hornet Fighter Jets
The Indian Navy is considering buying F/A-18 Super Hornet fighter jets for its indigenous aircraft-carrier, he INS Vikrant. However, India may prefer the French Rafale fighters due to compatibility issues. Modi will be visiting France in July and the Rafale fighter jets issue is on the agenda for talks during his visit.
The above deals have been discussed before and either a deal may be reached during the visit, or the talks could be continued when the US President visits India in September.
The views and opinions expressed in this article are those of the author and do not necessarily reflect the views of The Kootneeti Team