Myanmar military's move to dissolve Aung San Suu Kyi's NLD raises fears of further instability
Aung San Suu Kyi's National League for Democracy (NLD) has been dissolved by Myanmar's military-controlled media for refusing to comply with a new registration law for political parties. This new law was imposed by the military junta which seized power in a coup in February 2021. The military set a deadline for political parties to re-register under the new law, promising to hold an election, but it has been widely regarded as lacking credibility. The public and the country's armed resistance strongly oppose military rule.
Tun Myint, the secretary of the Yangon region executive committee, announced that the NLD would not register with the election authorities since such organizations had been established by the "illegitimate military council". Tun Myint also stated that the people's demands are to overthrow the military dictatorship, establish federal democracy, and ensure that there is no military influence in Myanmar's democracy going forward.
The military-controlled Myawaddy TV reported that 40 political parties, including the NLD, had been dissolved as they missed the deadline for registration. The NLD won the public's vote overwhelmingly in 2020, but the military refused to accept the results and seized power, detaining Aung San Suu Kyi and others, alleging electoral fraud, a claim rejected by independent observers.
Junta chief Min Aung Hlaing, in a speech marking armed forces day, referred to opposition resistance groups as "terrorists." He stated that such groups were "trying to devastate the country and kill the people" and promised that "lawful actions will be decisively taken" against them, with martial law increasingly imposed in "important townships that need to be controlled."
Richard Horsey, a senior adviser on Myanmar for Crisis Group, stated that if the military imposed national elections by force, they would likely be the bloodiest in the country's recent history. Horsey called on western and regional actors to send a clear message that polls are illegitimate and withhold electoral support. The national unity government set up by elected politicians and activists to oppose the junta should also unambiguously oppose attacks on electoral targets by resistance groups.
The 2021 military coup has resulted in conflict spreading to areas of the country that were once peaceful, with almost daily military airstrikes. Education and health services have collapsed, and an estimated 17.6 million people need humanitarian assistance, up from 1 million before the coup. Over 17,000 political prisoners remain in detention, including Aung San Suu Kyi, who has been sentenced to a total of 33 years in prison.
The registration law imposed by the junta requires national parties to fulfil various criteria, including recruiting 100,000 members within 90 days of registration, opening offices in at least half of all 330 townships within 180 days, contesting at least half of all constituencies, and holding funds of 100m kyat (£40,000).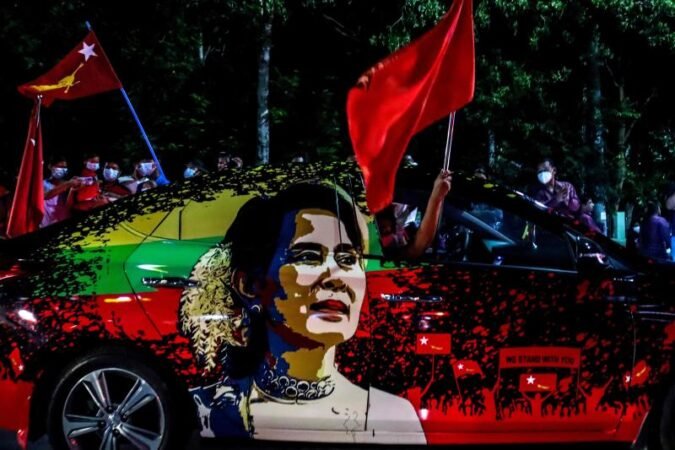 Australia, Japan, Germany, UK and US Condemn Myanmar Military's Exclusion of NLD from Political Process
Four countries including Australia, Japan, the United Kingdom, and the United States have voiced their worries over the recent dissolution of Myanmar's former ruling party by the country's military. They expressed their concerns that this move could lead to more instability in the already violence-stricken country.
The Japanese foreign ministry stated that they are seriously concerned that the exclusion of the National League for Democracy (NLD) from the political process could make it more challenging to improve the situation. They urged Myanmar to immediately release NLD officials, including Suu Kyi, and show a path towards a peaceful resolution that involves all concerned parties.
Similarly, the US State Department's deputy spokesperson condemned the decision to abolish 40 political parties, saying that any election without the participation of all stakeholders in Burma would not be free or fair.
The UK's foreign office criticized the dissolution of the NLD and other parties as an assault on the rights and freedoms of the Myanmar people.
Australia's Department of Foreign Affairs and Trade also expressed serious concerns over the narrowing of political space in Myanmar due to strict election registration requirements.
German Foreign Ministry said, "We condemn the dissolution of NLD and other parties by the military junta in Myanmar. This shows its contempt for the people & democracy. The junta must stop its brutal attacks on civilians & opposition and initiate an inclusive dialogue."
All five countries called for the restoration of democracy and credible elections, warning that the exclusion of stakeholders from the political process could lead to further violence and instability.
The spokesperson for Myanmar's military regime did not respond to these concerns. Senior General Min Aung Hlaing, the military regime's leader, had earlier urged international critics to support his efforts to restore democracy. Myanmar has been in chaos since the military coup in February 2021, which ousted the elected government of Aung San Suu Kyi and upended a decade of tentative democracy.
The views and opinions expressed in this article are those of the author and do not necessarily reflect the views of The Kootneeti Team