What is Make In India Initiative?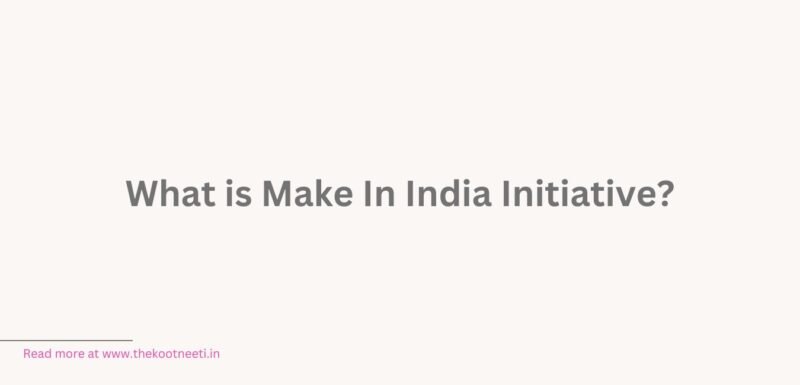 Make in India is a flagship initiative launched by the Government of India in 2014, aimed at promoting India as a global manufacturing hub and attracting investment and technology to the country. The main objectives of the initiative are to increase the manufacturing sector's contribution to the country's Gross Domestic Product (GDP), create employment opportunities, increase the exports of manufactured goods, and enhance the ease of doing business in India.
The initiative targets 25 key sectors for promoting manufacturing in India, including automotive, aviation, defense, electrical machinery, chemicals, food processing, information technology, pharmaceuticals, textiles, and tourism. It is aimed at making India a hub for design, development, and manufacturing of goods and services and make it an integral part of the global supply chain.
The initiative has attracted investment from both domestic and foreign investors, and has helped in creating a conducive business environment by streamlining regulations and reducing red tape. The government has also set up a dedicated Make in India Centre to provide a single-window clearance system for investors and to offer support and assistance in setting up business in India.
Overall, this initiative has been a key driver in promoting economic growth and competitiveness in the country, and has played a significant role in positioning India as a rising economic power on the global stage.
Some of the key achievements under the Make in India initiative include:
Increase in foreign investments: The initiative has helped to increase foreign investments in India, with a significant number of international companies setting up manufacturing units in the country.
Growth of the manufacturing sector: The manufacturing sector has seen significant growth in the last few years, contributing to the overall economic development of the country.
Job creation: The initiative has resulted in job creation, particularly in the manufacturing sector, which is expected to create additional employment opportunities for the country's growing population.
Improved infrastructure: The government has taken steps to improve the infrastructure, including the development of smart cities, which has helped to create a more conducive environment for businesses.
Development of the defence sector: The "Make in India" initiative has given a boost to the country's defence sector, with the government encouraging local manufacturing of defence equipment and reducing dependence on imports.
Boost to small and medium enterprises (SMEs): The initiative has helped to improve the competitiveness of SMEs by providing them with better access to capital and technology, thus enabling them to become more innovative and productive.
The views and opinions expressed in this article are those of the author and do not necessarily reflect the views of The Kootneeti Team