India's Peacekeeping Missions: Catalyst towards Military Diplomacy
The genesis of the twenty-first century has witnessed conflicts at intra, inter and regional, and global levels. The complexity of these conflicts calls for the more prominent role of the UN to ensure peace and security in the world. Therefore, it is not surprising that UN Peacekeeping missions have proved to be an effective tool that provides lasting peace and security. It's guided by principles of impartiality, consent of the parties and use of force primary in self-defence and defence of the mandate. India strongly supports these UN principles and has made a prominent contribution to the UN Peacekeeping missions to foster peace and security.
India held the first peacekeeping mission during the Korean War in 1950. Since then, more than 2,53, 000 Indian personnel have served in 49 of the 71 peacekeeping missions of the UN.
Since its independence, India has been a strong voice for the newly decolonised states of Africa, Southeast Asia, and island nations. Hence, it set the perfect stage for India to act as the global leader to build strong ties with these nations. India's robust engagement with these nations is bestowed on the common struggle against colonialism and imperialism. India has been an interlocutor of the UN peacekeeping missions. It chaired the three international commissions for supervision of states of Vietnam, Cambodia and Laos as per the 1954 Geneva Accord on Indochina. In addition to this, Indian peacekeepers supported Congo in attaining independence from Belgium in 1960. Since then, India's peacekeeping force has been preaching the ideas of independent nations by working on various UN peacekeeping operations in Africa, For instance, Somalia, Angola, Liberia, South Sudan, Lebanon, Sierra Leone and so on, except its recent one in Mali due to the excessive rise of Islamic insurgent groups in West Africa.
India's uniqueness in these UN Peacekeeping missions sets the perfect example for the other member states. For instance, India was the first country to deploy all-women contingents to a UN Peacekeeping mission in 2007. In addition to this, Trust Fund on Sexual Exploitation and Abuse, set up in 2016, witnessed its first contributor from India.
In this context, it is crucial to highlight that India is the country that has contributed more personnel than any other country, including the permanent members of the Security Council in the UN Peacekeeping Operations. (Table1.1)
Therefore, the current chair of India at the UNSC in August 2021 focused on the International Peacekeeping Operations as one of the most critical themes to raise the concerns and build partnerships with countries to enhance bilateral and multilateral ties, particularly with Africa.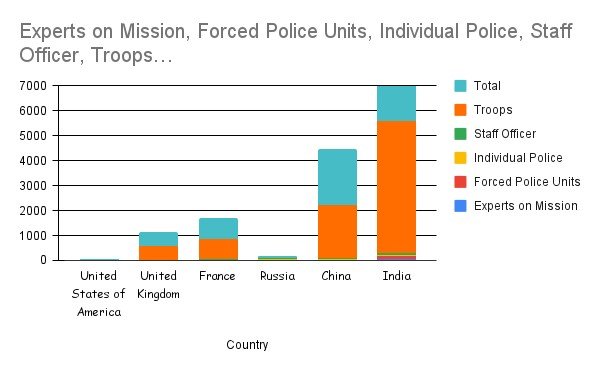 Contribution
India's contribution to peacekeeping operations in Africa has been unique. Until 2022, 5581 peacekeepers from India have made contributions to the UN Peacekeeping operations. About 1 85,000 Indian troops have served in 48 UN Peacekeeping missions worldwide.
India has participated in various UN Peacekeeping operations, particularly in Africa, beginning with Congo (1960-64). India has also participated in the states, including Angola, Egypt, Liberia, Mozambique, Namibia, Rwanda, Sierra Leone, Somalia, South Sudan, etc.
From time to time, India has preached the notions of professionalism, humanitarian concern, and the promotion of gender equality in its peacekeeping operations. Moreover, Indian peacekeepers have been commended for their outrageous attitude and have never stepped back, even in the most dangerous UN operations like Somalia. Hence, they have been considered to be reliable peacekeepers around the world.
India has extensively contributed to the United Nations (UN) Security Council Resolution 1325 (2000) on Women, Peace and Security (WPS). It is essential to highlight that women peacekeepers act as meaningful participants in peacekeeping operations and provide effective political solutions to the peacekeeping operations. For instance, Indian women peacekeepers have become role models for local women in Liberia. In addition to this, India has deployed its first-ever female force to establish peace during the brutal civil war in Liberia. From 2007-to 2016, female police units from India have gone through 9 rotations to provide 24hr ground duty and conduct night patrols in the state of Liberia.
The UN Military Experts on Mission and Staff Officers (UNMENs+ SOs) have set the target of 19% of women deployment in the UN peacekeeping operations for 2022. Till February 2022, India has deployed 156 women troops in the (UNMENs+SOs).
Another noteworthy aspect of Indian peacekeeping operations in Africa is its contribution to the humanitarian activities in line with the Civil-Military Cooperation (CIMIC) programme of the peacekeeping force.
For instance, Indian peacekeepers during its United Nations Organization Stabilization Mission in the Democratic Republic of the Congo (MONUSCO) treated men, women and children for various illnesses and injuries at the Indian hospital. In addition, they provided aid by performing eye surgeries at the hospital.
Humanitarian assistance provides a secure environment and ensures security and protection of armed personnel to establish mutual trust and cooperation.
To promote gender equality, Indian Female Police Unit organized medical camps for Liberians due to the lack of accessibility to health care services. It is essential to highlight the unique characteristics of the Indian Peacekeepers as they provide medical care services to all the communities in which they serve. Indian peacekeepers also overstepped in their humanitarian assistance by providing veterinary services in South Sudan (UNMISS).
In addition to this, Trust Fund on Sexual Exploitation and Abuses setup in 2016 saw India as it first contributor who has provided 15 Force commanders to various UN missions.
Challenges
As it is rightly said, nothing comes without the cost. The fact that as of 2018, 164 Indian peacekeepers have lost their lives on the ground to ensure peace and security. Compared to other member states, India has lost more peacekeepers since its UN Peacekeeping missions.
India has raised its concerns at the UN about the various casualties. In addition, India has inaugurated Memorial Wall for the peacekeepers who died on the ground inaugurated during India's August 2021 presidency.
It is essential to discuss that the role of peacekeepers is more complex than any battle or war. The peacekeepers are deployed in a foreign country fighting war with different states or among themselves. Furthermore, western countries are reluctant to send their troops to the most dangerous war zone states like Somalia or Congo. It is the Indian peacekeepers who have been outrageous to work with these countries with the motto of "Winning the Hearts and Minds". The role of peacekeepers is not only limited to protecting the civilians but also to ensuring food security, freedom of their movement and their rehabilitation. It is a holistic approach that cannot be achieved using weapons alone but requires interaction at the root level. For instance, In Somalia, Indian peacekeepers have organized cultural programmes to bring people together. They have also trained rebels so that they give up weapons and work for the development of their country. In addition to this, Indian peacekeepers have preached the practice of Yoga to the UN missions in Lebanon (UNIFIL).
Another crucial challenge is the aggressive Chinese policy that has risen due to its decade-long Belt and Road Initiative, which has caused trouble, especially for India. Hence, deploying these troops is in line with our aim of Vasudhaiva Kutumbakam, which ensures global peace and stability. Any instability will cause trade disruptions and severely affect our economic, energy, and multilateral interest in the region.
Furthermore, Indian peacekeepers in Africa have set an example in dealing with the war situation by winning the minds and hearts to achieve demobilization and disarmament in the region. In the case of Liberia, Indian Army training teams organized to plant the values among the security forces. Indian peacekeepers are geared up to sacrifice their lives to ensure peace and security in the African region, which is gripped by political instability, famine and war.
Way Forward
India is a vital propagator of peace enshrined in Article 51 of the Directive Principles of the States Policy to promote International peace and security and encourage peaceful settlement of international disputes. India has immensely contributed to the UNPKOs and has contributed to tremendous and lasting solutions in the states of Congo, Sudan and Liberia. Liberian women are highly inspired to impart the principle of professionalism. They are encouraged to join their nations to establish peace and security. Indian engineers in Eritrea have helped build roads as part of its UN mission in Ethiopia and Eritrea (UNMEE). The efforts to build strong and resilient infrastructure works in two directions. 1) It fosters development in the region and 2) counters the growing influence of China in two critical chokepoints (i.e.) Bab-el-Mandeb and the Mozambique Channel. Furthermore, these peacekeeping operations have brought in casualties, but these missions set the strategic footprint for India to ensure its economic and energy interest in the state of Africa. Thus, the deployment of troops acts as a catalyst to India's military diplomacy that has seen the influence of China through its string of pearls strategy in the region. These UN peacekeeping missions give the ground exposure to our battalions, fostering their professional skills and strengthening their goodwill with the conflicting parties.
Another essential aspect is strengthening the African Peace and Security Architecture (APSA) to set up the standby force from the 55 states to ensure peacekeeping and peacebuilding in the region.
Thus, India calls for deeper cooperation among the UN and regional organizations such as African Union from time to time.
No doubt, the ineffectiveness of the UN Security Council holds a more significant challenge for the countries like India, which contributes a more substantial chunk of peacekeepers in UNPKOs who are denied participation in the decision making concerning the deployment of its troops. Thus, Article 44 of the UN Charter needs to be reconsidered, wherein countries should be involved in deploying their troops when Security Council has decided to use force to fulfil its UN mandate.
Indian peacekeepers have gone beyond their call duty to ensure peace and security. They have voluntarily provided medical and veterinary support in the states of Liberia and Congo.
The efforts made by India toward the African peacekeeping operations pave the way for future cooperation and bilateral ties between the countries. India must act as a light to the African continent, which has seen China's growing influence in the region. India can act as a powerful representative of the African voices that demand their share of representation in the Security Council.
It is high time for India to strengthen its ongoing efforts to make its place in the Security Council to direct reasonable efforts to develop the African continent. 
The views and opinions expressed in this article are those of the author and do not necessarily reflect the views of The Kootneeti Team