Perceptualizing Climate Change with World Leaders
Climate change is affecting every country on every continent. It is disrupting national economies and affecting lives. Weather patterns are changing, sea levels are rising, and weather events are becoming more extreme; Climate change has become a serious issue to be addressed in recent times. World leaders are finding ways to tackle the issue and reduce the risk of climate change. Indian Prime Minister Narendra Modi at TERI's flagship annual flagship event World Sustainable Development Summit, in February 2020, said that to safeguard our planet's health, we need to think out of the box and invest in the youth of our country. He also spoke about India's progress towards attaining the goals set for 2030 at the Paris agreement in 2015. In 2019, India also became the first country to launch a national plan for sustainable cooling called the "Indian Cooling Action Plan" (ICAP). Like India, countries like the U.S. are also coming up with plans to tackle the situation and has given it a priority in the foreign policy.
U.S. President Joe Biden will host a virtual 'leaders' summit on climate' on 22nd and 23rd April along with 40 world Leaders, including Prime Minister Narendra Modi. The main topics of discussion at the summit will revolve around the U.S.'s attempt to reclaim its lost leadership on the climate front, push nations to cut emissions, renewable energy, and its uses, ideas on the carbon market, and push the nations to be "net-zero".
In order to prepare for the summit, Joe Biden appointed John Kerry (former Secretary of State) as the United States Special Presidential Envoy for Climate. During John Kerry's preparation for the summit, he visited India for three days and discussed the issue. Unlike the other analysts who believed India and the U.S. to disagree "net zero" demand John Kerry said, He understands the challenge. India understands the challenge and said that India is doing all the things that need us to get there, and that better than most nations. He also added that India wants to go green; India wants financial and technological assistance for its green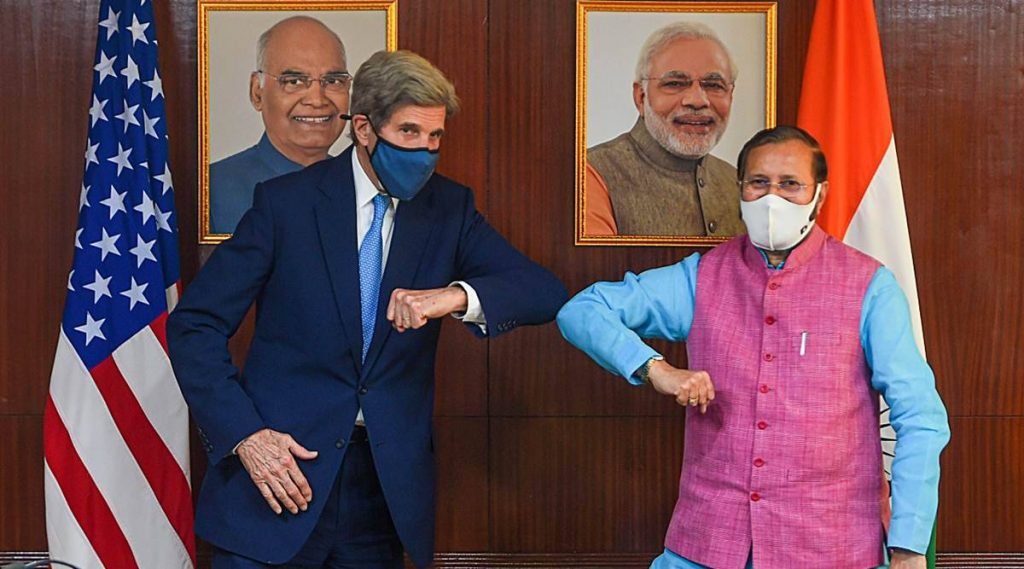 transformation, but India would resist any efforts by the developed world that could have an adverse implication on its development. I want to see India emerging as a green tech hub of Asia, producing and deploying clean technologies and playing a vital role in global green supply chains, he added. Union Environment Minister Prakash Javadekar had on Wednesday said India is the only G-20 country to walk the talk on the Paris climate agreement and "we have done more than we promised". India is also planning to launch one of the largest renewable energy expansion programs to achieve 175 GW renewable energy capacity by 2022 and 450 GW by 2030. According to John Kerry, this program will help limit global warming by 1.5 degrees Celsius.
In the present context, China is now way ahead in producing and developing green technologies; according to China, it will achieve carbon neutrality by 2060; china's initiative to achieve carbon neutrality can prove to help restrict global warming.
The Forty nation Climate summit will be followed by the 47th G7 summit, which will take place in June. The attendees of the summit will include leaders of the seven G7 member countries. The main topic of discussion will revolve around tackling climate change ahead of the COP26 conference. It is believed that British Prime Minister, Boris Johnson, will seek coordinate action on carbon border taxes, green finance, the phase-out of coal, and helping poorer countries set up climate change.
The views and opinions expressed in this article are those of the author and do not necessarily reflect the views of The Kootneeti Team