India's 72nd Republic Day celebration marks a new turn in Indo-Bangla relations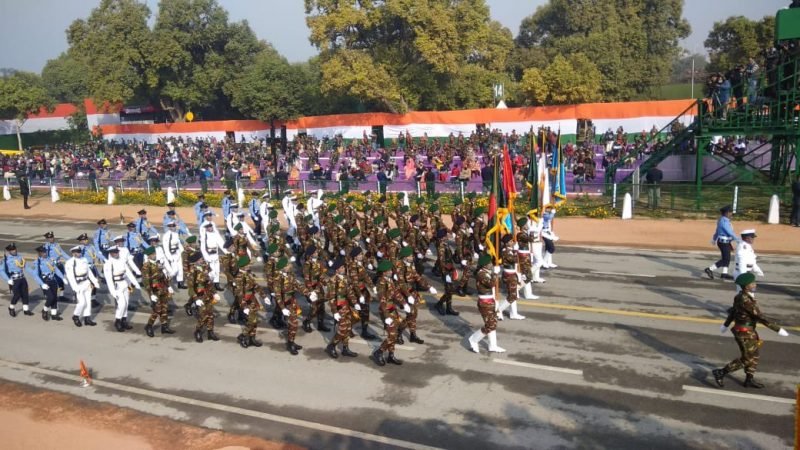 India celebrates its 72nd Republic Day on 26 January 2021, in which India moved a friendly gesture by hosting a troop of 122 Bangladeshi soldiers. The move which is a signal of great historic partnership, cooperation and support for both the nations. The collaboration is a reminder of the great battle fought between Indian forces and Bangladesh Mukti Vahini against Pakistani forces and Razakars in 1971, which resulted in the birth of the independent nation-state of Bangladesh. The Bangladeshi soldiers parade down Rajpath shows a deep relationship and cooperation between both nations.
After the enactment of CAA and outrage over its execution, the relationship between Bangladesh and India turned out antagonistic. The launch of the Nation Register of Citizens (NRC) has fired the anxiety and fear of upcoming mass exodus of Bengali speaking people from Assam to Bangladesh. This came to be more hurtful to the Hasina government after the unpleasant speeches made by Indian Home Minister Amit Shah comparing Bangladeshi immigrants to 'termites.' Thus in all, this situation has dogged the bilateral relations and incited considerable disquiet in Dhaka. After the virtual summit happened last year, in this address, the Indian government accepted Bangladesh as 'vital' to India's neighbourhood policy. This celebration will mark a new beginning, healing the previous wounds, both the countries seemed to move back to their cordial relationship.
For the time being, China has been continually putting in efforts to raise its territorial expansion by touchdown its footprints on the soil of Bangladesh, flying the prospect of a twin Bangladesh- Islamabad attack on New Delhi's interests with Dhaka.
In this context, this hosting organized in India on 26th January 20, is a very significant one.
The Republic Day parade will eventually help to address any reservations and misgivings in Dhaka about New Delhi obligation to this bilateral partnership. It would correspondingly help if influential and leaders in India abstain from putting divisive matters like CAA and NRC, and avoid using withering and critical terms for Bangladeshis in future. Also, the positive move of the Indian government, about the punctual delivery of COVID-19 vaccines and to pull out non-tariff hurdles ties to enable the reemergence of the slackened economy and to safeguard positive change in the emergency. So, 2021 will be a significant year because it unfolds various modes in this relationship.
In the Post Covid World, when each country has been the worst hit of financial and developmental distress when every other day throws up different challenges to the government. Regardless, of such hardships and deep-water situation, the Modi government has been a 'helping hand', to its neighbour country which stands in need, to facelift it from this depressing crisis. Modi government when, running on its new diplomatic track, tailed "Panchsheel Siddhant" of equality and mutual benefit with Bangladesh through new deals and agreements of further development.
Also, Bangladesh conceded as a 'key pillar' of 'India's Neighborhood First' policy, it becomes the call of duty to work for each other in this unprecedented crisis. Bangladesh is going to celebrate its 50th year of Independence, which will also mark the 50th year of strong diplomatic ties between India and Bangladesh.
2021 will be a significant year for Bangladesh as it celebrates golden jubilee of its Independence, which also marks 50 years of India- Bangladesh relations. More turns are likely to occur with the visit of Prime Minister Modi to Dhaka in March 2021. This year's celebrations on both ends could be seen as a process to revive and to establish bonhomie between both the nations based upon mutual assistance, cooperation and cooperation in all situations.
The views and opinions expressed in this article are those of the author and do not necessarily reflect the views of The Kootneeti Team