India highlights 'irony' as Pakistan co-sponsors UN resolution on safeguarding religious sites
Calling for greater efforts to promote a culture of tolerance and peace at all levels, the United Nations General Assembly has recently adopted a resolution convening a global conference aimed at promoting the United Nations Plan of Action to Safeguard Religious Sites. The resolution takes into account the Governments, political figures, religious leaders, civil society and the media, among other stakeholders.
At the 75th session of the UNGA,India's Permanent Representative to the UN Ambassador T. S. Tirumurti said that, as a multicultural State, India safeguards all religious and cultural rights and protects places of worship and it is an irony that Pakistan is one of the co-sponsors of the resolution on promoting culture and safeguarding religious sites. In today's world, religious and cultural sites remain highly vulnerable to attacks by violent extremists as was seen recently when a historic Hindu temple was set ablaze in Khyber Pakhtunkhwa Province in Pakistan, while authorities stood idly by. Warning against the selective enforcement of laws against attacks on religious sites, he stressed that as long as such selectivity exists, the world will never be able to foster a real culture of peace. Indeed, it is ironic that the country where that attack took place, and where minority rights are regularly violated, is one of the text's co-sponsors. "This resolution cannot be a smokescreen for countries like Pakistan to hide behind," he stressed.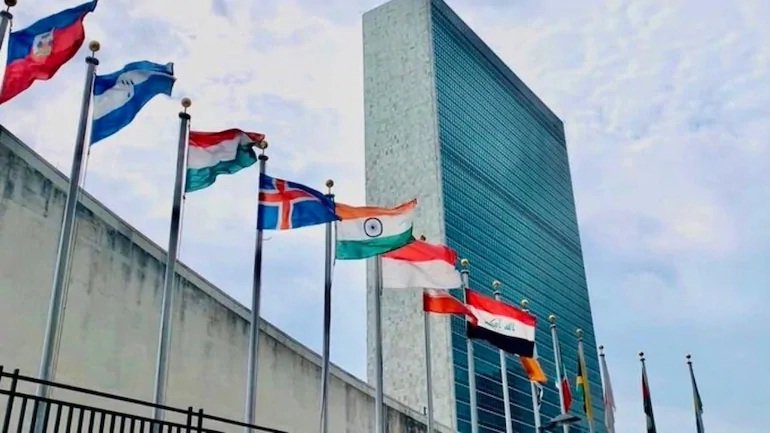 Hitting out at Pakistan India has spotlighted the "irony" as Pakistan co-sponsored a resolution at the United Nations on safeguarding religious sites indicating to recent demolishment of a Hindu temple in the country. The Ambassador also clarifies India's position on Adoption of Resolution on "Promoting a culture of peace and tolerance to safeguard religious sites. "The resolution can not be a smokescreen for countries like Pakistan to hide behind." Adding to that speaker from India, TS Tirumurti said, "It is a matter of great irony that the country where the most recent attack and demolition of a Hindu temple took place in a series of such attacks" and "where the rights of minorities are being emasculated is one of the co-sponsors of the resolution under the agenda item "Culture of Peace."
December 2020 saw demolishing of a historic Hindu temple 'Karak' in the country's northwest Khyber Pakhtunkhwa province. The temple has been the target of attack several times in the past as well. It was demolished in 1997 and later reconstructed again in 2015. While this was happening, "Pakistan with explicit support and connivance with the law enforcement agencies which, stood as mute spectators while the historic temple was being razed," the statement detailed.
However, It wasn't for the first time India was speaking about Pakistan's credentials on the deteriorating situation of minorities. Rather, New Delhi has lifted the issue up several times of abduction of Hindu, Sikh, Christian girls in the country by summoning the diplomats from Islamabad. On contrary, Pakistan's Representative, while exercising his right of reply at the 75th General Assembly categorically denied the "unwarranted assertions" deliberated by Indian delegates against his country and proclaimed that India has often been levelling such accusations against Islamabad. And rather accused India for blaming Muslims for spreading COVID-19, inciting people against the so-called crime of "love jihad" and commits extrajudicial killings of innocent Kashmiris. Pakistan has several times raised Islamophobia, this time too at the UN but maintained a deafening silence when it comes to discrimination faced by Hindus, and others, particularly on its own soil.
Whereas Indian statement went on to appeal and reiterated its call of "application of the principles of objectivity, non-selectivity and impartiality" to form the basis of discussions in the United Nations especially on the issue of religion and the top body "should not take sides and as long as such selectivity exists, the world can never truly foster a culture of peace." For the UN system to credibly facilitate the culture of tolerance and ensure effective action. India has also proposed certain Action Plans including to summon the political will to unhesitatingly fight against terrorism with no ifs and buts in this fight and said that we must firmly discourage exclusivist thinking which divides the world and harms the social fabric. Such approaches facilitate radicalization breeding fear, mistrust, and hatred among different communities.
The views and opinions expressed in this article are those of the author and do not necessarily reflect the views of The Kootneeti Team