Regional Transformation, New Alliances: Azerbaijan – Pakistan –Turkey Trilateral Meeting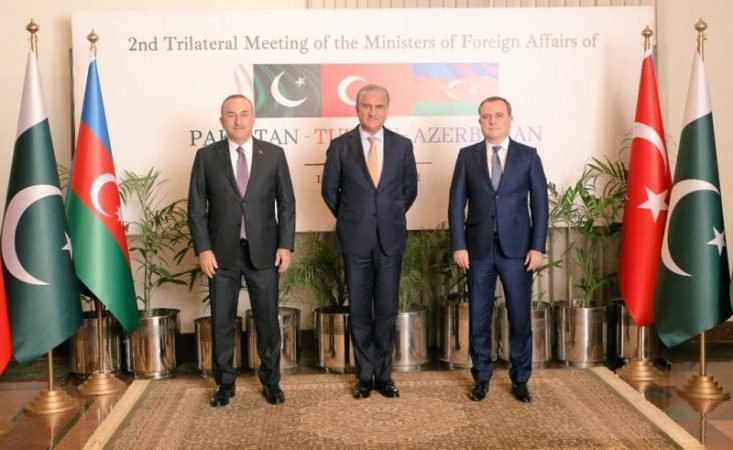 As the world undergoes a transformation, new alliances emerge. The second trilateral meeting of the foreign ministers of Pakistan, Turkey and Azerbaijan was held in Islamabad recently for exchange of views on global and regional issues and to look out possibilities of enhanced cooperation in all areas of common interest. The three sides exchanged their views on several pressing matters and development targets. The trilateral cooperation of Azerbaijan, Pakistan and Turkey was formally launched in November 2017 when Azerbaijan's Secretary of State Elmar Mammadyarov held a meeting along with his counterparts from Turkey and Pakistan, Mevlut Cavusoglu and Muhammad Asif, respectively in Baku. It's also significant to note that Turkey, Pakistan and Azerbaijan enjoy deep fraternal relations supported by their common faith, values, culture and history — closely embedded in mutual trust and understanding. Emphasizing on the present cordial ties the three countries also resolved to enhance cooperation in peace and security in line with various global and regional instruments.
The Foreign Ministers discussed on new and emerging threats to regional peace and security, the challenges faced by COVID-19, environment, climate change and economic development targets, stated Pakistan's foreign office. They also searched out possibilities of strengthening trilateral cooperation in all areas of common interest, including peace and security, trade and investment, science and technology, education and culture. The declaration also noted the ministers' support for dissolving the Armenia-Azerbaijan conflict and normalization of relations on the basis of sovereignty and territorial integrity conforming to the relevant UN Security Council resolution.
What's behind the growing Azerbaijan-Pakistan-Turkey friendship?
Whenever a country fights a war for the sake of its territorial integrity, it leans on to every kind of backing it can get – especially military and diplomatic. The recent tripartite meeting among foreign ministers of the three countries holds a great importance as it is the first time, since 2010 an Azeri foreign minister visited to Pakistan. Past year's hostility in the South Caucasus between Armenia and Azerbaijan brought Baku's close relations with Pakistan and Turkey to a focus.
Azerbaijan, a Shia Muslim and Turkic-speaking country, has had close ties with Pakistan and Turkey ever since it emerged an independent state after the collapse of the Soviet Union.  Pakistan was only second after Turkey to recognize Azerbaijan as an independent country in the early 1990s. Also,  Pakistan is the only country which doesn't recognize Armenia – a move in solidarity with Baku. Pakistan and Turkey already have substantive defence cooperation. As Ankara already backs Baku with military gear, Islamabad also tries to look out opportunities to enhance military ties. In an effort, earlier in the month, Azerbaijan and Pakistan's air chiefs have met and discussed the joint pilot training and military exercises. 
Azerbaijan could push out Armenian forces from the Nagorno-Karabakh region, the centre of military escalation, only with the help of Turkish-made drones. In a similar way, Pakistan also backed Azerbaijan's position in the international territorial dispute with Armenia. Azerbaijan, Pakistan and Turkey have frequently backed each other on several international forums on national interest matters such as Kashmir, Cyprus and Nagorno-Karabakh. Apparently, this could be seen in this week's meeting between foreign ministers of the three countries in Islamabad. A joint declaration expressed concern over India's attempts to "change the demographic structure of Jammu and Kashmir" and called for resolving the "Cyprus issue."
Turkey and Azerbaijan have been advocating Pakistan on the prevailing issue of Kashmir dispute with India. Both of these countries have been a member of OIC Contact Group on Kashmir which timely issues strong statements on Kashmir. During the joint conference, top diplomats of Azerbaijan and Turkey-backed Pakistan on Kashmir issue and castigated India for committing human rights abuses. They cited for the political settlement of the dispute in accordance with UNSC resolutions. Prime Minister Imran Khan's government is seeing Baku's support on the Kashmir issue as a much-needed public relations boost. Prime Minister Imran expressed gratitude to Turkey for its devoted support on the Kashmir dispute and highlighted the Indian actions as detrimental and falsely argued that it's posing a threat to peace and security of the region.
The views and opinions expressed in this article are those of the author and do not necessarily reflect the views of The Kootneeti Team