Second Quadrilateral Ministerial Meeting at Tokyo: An Assessment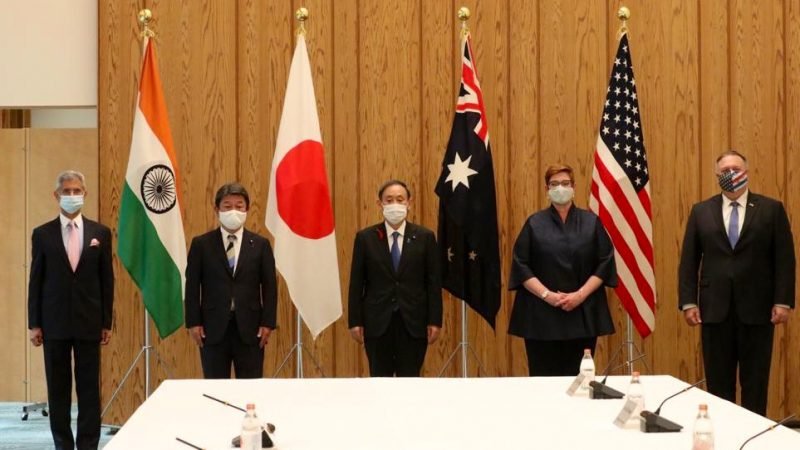 In 2019, the first Quad ministerial meeting was held in the US at New-York on the sidelines of UNGA (United national general assembly). The various issues such as maritime security, cybersecurity, environment, climate change and economic issues were discussed for further cooperation between the Quad countries. The US, Japan, Australia and India agreed-upon free, and open Indo-Pacific. All nations are agreed and committed to enhancing peace, security and prosperity in the region.
In 2020, the second foreign ministerial Quad meet held in Tokyo, Japan. It is a significant meeting because it was held during the Covid-19 pandemic situation across the globe. Quad countries agreed in-order to collectively tackle the Covid-19 pandemic around the globe. The discussion took place on the issues to enhance maritime security co-operation, cybersecurity, 5G network, economic co-operation, countering terrorism and disinformation as well as infrastructure development and investment for the peace, security and economic prosperity of the Indo-Pacific. Participants also discussed the need to improve supply chains for sectors including critical minerals, medical supplies, and pharmaceuticals. The Quad assured the ASEAN (Association of Southeast Asian Nations) centrality in the Indo-Pacific region.
Initially, before the second ministerial meeting at Tokyo, the Quad senior officials discussed on virtual platforms in September 2020. They explored the ways to work in the Mekong sub-region, in the South China Sea, and across the region to establish and maintain international law, pluralism, regional stability and Covid-19 recovery efforts.
Dr S. Jaishankar, India's external affairs minister expressed India's stand on Quad and Indo-Pacific. In his opening remarks, he said, India seeking collective solutions to global challenges, it seeking recovery from the pandemic. He affirmed the importance of maintaining a free, open and inclusive Indo-Pacific. India is committed to upholding the rules-based international order, rule of law, transparency, freedom of navigation in the international seas, respect for territorial integrity and sovereignty and peaceful resolution of disputes. He also mentioned that the security, economic growth and common interests of all countries in the region would be our (India's) objective.
Dr S. Jaishankar also met bilaterally with the foreign minister of Japan, Australia and the US Department of State Secretary Mike Pompeo on the sidelines of a Quad ministerial meeting. 
13th Indo-Japan Bilateral Meeting
On October 7th, 2020, S Jaishankar, Indian external affairs minister and Mr. Motegi Toshimitsu, foreign minister of Japan, met and held a Japan-India foreign minister strategic dialogue. On the day, Minister S. Jaishankar wished his Japanese counterpart for his birthday.
The key points of the meeting are as follows-
Ministers from both sides agreed to elevate the strategic and global partnership between India and Japan.
Both have discussed to enhance political, security and economic co-operation.
In the infrastructure development, ministers discussed and reaffirmed the importance of implementing Japan-India cooperation in third countries such as ASEAN and Southwest Asian countries and making steady progress on the high-speed rail project.
Foreign ministers discussed co-operation to promote 'Free and open' Indo-Pacific and affirmed their intentions to boost bilateral co-operation and also to cooperate in 'Indo-Pacific Oceans Initiative' promoted by India.
They have also exchanged their views on various international security issues such as Japan- North Korea abduction issue, and the Indian foreign minister expressed his support to Japan.
After the meeting, S. Jaishankar tweeted that, "the Discussions covered our co-operation in manufacturing, skills, infrastructure, ICT and health. Our partnership can make a big difference in the post-Covid-19 recovery."
Indo-Australia Bilateral meeting
India and Australia both are strategic partners in the Indo-Pacific region. Both counties are sharing common objectives for the region. At 4th June 2020, India and Australia hold a Prime-ministerial virtual summit. In which, both countries signed several agreements in the sectors of Science and technology, Cyber, Space, Military etc.
On the sidelines of the Quad summit in Tokyo, Dr S Jaishankar met with Australian foreign minister Marine Payne. Both have expressed thoughts and opinions with each other for peace security and development of the Indo-Pacific and to strengthen the comprehensive strategic partnership between both countries. They also reviewed the bilateral relationship between India and Australia and showed a willingness to extend co-operation in global affairs and regional issues. Australian foreign minister in her tweet said, "As democracies, we value an open, stable and secure region." Marine also congratulate Dr S. Jaishankar for his recent book 'The India Way: Strategies for Uncertain World'.      
Indo-US Bilateral Meeting
India and the US are key strategic partners in Indo-Pacific region. Two nations have a close tie up in military, security, economic and in the Science and Technology sectors.
Dr S. Jaishankar began his Tokyo summit meeting with US Secretary of State Mike Pompeo. As per Mr Cale Brown, the official principal deputy spokesperson of the US Department of State, Secretary Pompeo and Minister Jaishankar discussed ongoing bilateral and multilateral cooperation on topics of international concern.  They discussed to strengthen the relationship and co-operation between the United States and India, they have also discussed the common concerns to combat the Covid-19 pandemic and asserted the need to work together for peace, prosperity, and security in the Indo-Pacific.
Both ministers agreed for further strong strategic co-operation. And looking forward to the upcoming Indo-US bilateral '2+2 Strategic dialogue'.
Like, first ministerial meeting this time also, the Quad meeting has not released any joint press statement. The Quad ministerial meeting did not focus much on Chinese aggression and assertive stand in the South China Sea and the ongoing standoff between India and China at Ladakh region. But, the US Secretary of State Mike Pompeo expressed his views on China that, "As partners in this Quad, it is more critical now than ever that we collaborate to protect our people and partners from the CCP's exploitation, corruption, and coercion.  We've seen it in the south, in the East China Sea, the Mekong, the Himalayas, the Taiwan Straits. These are just a few examples." Nobody directly named China, except Secretary Pompeo. But Australian and Indian counterparts expressed views to strengthen co-operation for rule of law, freedom of navigation, and respect of international laws at seas particularly UNCLOS (United Nations Convention for the law of seas).
Here, one minor difference must need to be understood that, the US and Japan are talking about 'free and open' Indo-Pacific, Australian foreign minister in her opening remarks used words 'free, open and resilient' Indo-Pacific, and on the other hand India's policy is 'free, open and inclusive' Indo-Pacific.    
Response from Chinese side
After the Quad meet, speaking at a press briefing in Beijing on Friday, the first following the week-long national holiday in China, Foreign Ministry spokesperson Hua Chunying said in response to a question on the Quad meet, "This is now the 21st century, and we are living in an era of globalisation. The interests of all the countries are so intertwined that organising closed and exclusive cliques will not help to build mutual trust and cooperation, especially when we are faced with urgent tasks of fighting the pandemic and reviving the world economy."
"We hope countries will bear in mind the common interest of all countries and focus on beating the virus with collective efforts while creating a peaceful environment and cooperation opportunities for the regional and global economic recovery," she added.
As per The Hindu, China's State media has been particularly critical of Mr. Pompeo and highlighted the fact that he was the only one among the four ministers to directly mention China.
China's popular newspaper global times published a few articles of Chinese scholars in the form of opinion.
Shen Yi, Professor at the School of International Relations and Public Affairs of Fudan University, expressed his views that nobody directly talked against China except the US. He mentioned that the Quad meeting did not release any joint press statement. He also raised the point that why Japan, Australia, India did not mention China in their speeches? He argues, "Quad countries are calculating their own separate interests".  He pointed to some of the issues within the Quad countries, which would be an obstacle for the Quad. Such as Japan's and Australia' economic interests with China, India's economic ambitions towards Quad, he said India is not willing in terms of military alliance with Quad countries.
Zhang Jindong, Professor of the Center for American Studies at Fudan University and director of the Center for South Asian Studies, expressed in his article with regards to India that India's participation in the Quad is much more time-sensitive because of ongoing border tensions with China. Further, he stated, New Delhi is trying to increase pressure on Beijing by means of a closer mechanism and force China to make concessions to India on border issues.
Majority of Chinese scholars perceive the Quad as 'Asian NATO', Though it has not formed yet. NATO (North Atlantic treaty organisation) is based upon the collective security principle 'one for all and all for One'. But the situation with regards to Quad is different. It is based upon the principle of free, open and inclusive Indo-Pacific for peace, security and stability of the region.
An Assessment
Quad countries have given the first priority to counter the Covid-19 pandemic in all over the Globe. They also committed to cooperating with each other for vaccine development and supply of pharmaceuticals across the Indo-Pacific region.
They have discussed the issues for supply chain management to aid medical health on a limited and appropriate time.
Global economic slowdown affects every nation. Thus, economic issues and aspects have been discussed to enhance economic cooperation within Quad countries. It will also help to boost the manufacturing sector to diversify imports from China. The economic factors and infrastructural development areas have also been discussed within the bilateral talks of foreign ministers.
Bilateral relationships within the Quad Countries are equally important, and sideline meetings of foreign ministers provide a common platform and opportunity to discuss bilateral issues, improve bilateral ties and to further strengthen the structure of the Quad.
Quad countries discussed the security issues of maritime security, cyber security, counter terrorism and countering disinformation in the cyber domain. They have committed and co-operated for cyber security, intelligence sharing as well as to take a common approach on 5G network, which is extremely important in the security and telecom sectors.
Modern warfare will be based upon cyber and space technology. Thus, rather than a traditional military approach, cyber security co-operation within Quad countries would be the key to enhance military strength and capabilities.
Three points which seemed missed in the Second Quad meeting are as follows:
Joint statement of Quad countries.
Participation of Australia in Malabar naval exercises.
Formalization and the structure of Quad.
To conclude, the Quad is yet in the Informal stage, but it is gradually taking shape. It is also improving the co-operation in various aspects within the Quad countries and also with the littoral countries of Indo-Pacific. It can be into an informal stage for the next few years to get the response from the littoral countries of the region. Also, there are possibilities of expansion of Quad. The second quadrilateral foreign ministerial meeting seems significant. Because dialogue is key to enhance cooperation in international relations and diplomacy.
References-
Ananth Krishnan (October 2020), After Quad meet, China slams 'closed and exclusive cliques' by The Hindu, retrieved from- https://www.thehindu.com/news/international/after-quad-meet-china-slams-closed-and-exclusive-cliques/article32814497.ece.
Dr. S. Jaishankar (October 2020), Twitter Id- @DrSJaishankar.
Foreign Ministry Spokesperson Hua Chunying's Regular Press Conference (October 9, 2020) Retrieved from- https://www.fmprc.gov.cn/mfa_eng/xwfw_665399/s2510_665401/2511_665403/t1822871.shtml.
Liu Zongyi (October 2020) US, India to remain strange bedfellows regardless of any military pact By Global Times, retrieved from- https://www.globaltimes.cn/content/1203044.shtml.
Marise Payne (October 2020), Twitter Id- @MarisePayne.
Marise Payne (October 2020), Australia-India-Japan-United States Quad Foreign Ministers' Meeting (October, 2020) Retrieved from- https://www.foreignminister.gov.au/minister/marise-payne/media-release/australia-india-japan-united-states-quad-foreign-ministers-meeting.
Office of Spokesperson US Department of State (October 2020), US, America, Japan, India (The Quad), Retrieved from- https://www.state.gov/u-s-australia-india-japan-consultations-the-quad-3/.
Office of Spokesperson US Department of State (October 2020), Secretary Pompeo's Quad Meeting with Japanese Foreign Minister Motegi, Indian Foreign Minister Jaishankar, and Australian Foreign Minister Payne, Retrieved from- https://www.state.gov/secretary-pompeos-quad-meeting-with-japanese-foreign-minister-motegi-indian-foreign-minister-jaishankar-and-australian-foreign-minister-payne/.
Office of Spokesperson US Department of State (October 2020), Secretary Michael R. Pompeo Opening Remarks at Quad Ministerial, Retrieved from – https://www.state.gov/secretary-michael-r-pompeo-opening-remarks-at-quad-ministerial/.
Opening remarks by External Affairs minister S. Jaishankar (October 2020) Retrieved from –https://www.mea.gov.in/Speeches-Statements.htm?dtl/33097/Opening_remarks_by_EAM_at_2nd_Quad_Ministerial_Meeting_in_Tokyo_Japan.
13th India-Japan foreign minister's strategic dialogue (October 2020), Retrieved from- https://www.mofa.go.jp/press/release/press4e_002923.html.
Shen Yi (October 2020), All US' bark and no bite in Quad meeting published by Global times, Retrieved from- https://www.globaltimes.cn/content/1202772.shtml.
Zhang Jiadong (October 2020), QUAD desires 'Asian NATO,' but China has smarter solutions by Global times, Retrieved from- https://www.globaltimes.cn/content/1203120.shtml.
The views and opinions expressed in this article are those of the author and do not necessarily reflect the views of The Kootneeti Team