India 'testing lab' for a global boycott of Made in China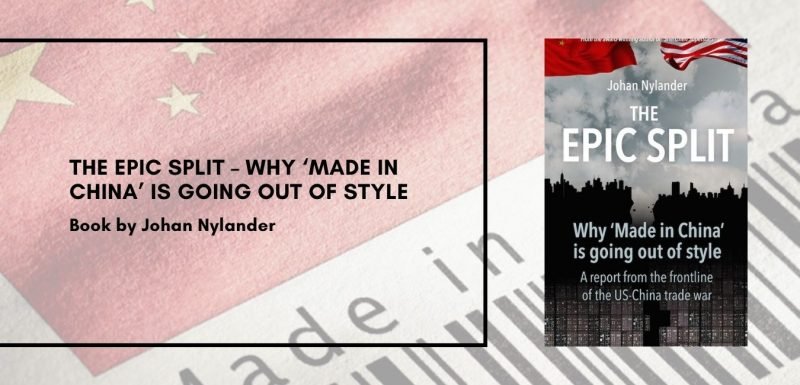 New book by Johan Nylander examines why international companies are leaving China and consumers turning against Made in China. 
India is one of the winners in the trade war between the US and China as more and more international companies relocate manufacturing away from China to India.
But India is also a front-runner in terms of large-scale consumer boycotts against products Made in China.
In a new book on the topic, "The Epic Split – Why 'Made in China' is going out of style", I explain the background to this fierce and escalating trade conflict between the US and China but also how consumers and governments around the world react. 
Get your copy of 'The Epic Split'
As a journalist based in Hong Kong for the last decade, I have enjoyed a ring-side view of the astonishing transformation in trade and diplomatic relations between China and the West. As the global conflict deepens, I often feel more like a trade war correspondent than an Asia correspondent.
Boycotts against Chinese products can be seen in many parts of the world.
In the US, a report from May 2020 found that 40 percent of polled Americans said they'd refuse to buy any Made-in-China products. The same survey, by Washington-based FTI Consulting, a business advisory firm, also found that 78 percent would be willing to pay more for products if the company that made them moved manufacturing out of China.
Similar sentiment can be seen in Europe.
In Hong Kong, business is today color-coded. One way to support the pro-democracy movement in Hong Kong and to protest against the communist regime in Beijing – without violating the new national security law – is to shop, eat and consume your entertainment within the so-called "yellow economic circle". The yellow economy has become an informal system of classifying thousands of businesses based on their support for the pro-democracy movement. It's sometimes referred to as the anti-communist economic circle. Blue, meanwhile, symbolizes support for Beijing and the Hong Kong police.
"What do you do in a non-democratic society where the government refuses to listen to you? In a money-driven city like Hong Kong, you use your wallet," an analyst at a high-end wealth management firm in Hong Kong told me.
But it's in India the crusade against Made in China has been the loudest.
A countrywide "boycott China" movement is connected to the virus outbreak and a recent deadly military border clash with China, but also fueled by long-standing cranky diplomatic and cultural relationships between the two countries.
The hashtags #BoycottMadeInChina, #RemoveChinaApps and #MadeinIndia have gone viral on social media, as part of nationwide calls for boycotts of Chinese products, services and companies. Billboards declaring "Boycott China" can be seen along roads and protests have been staged outside the premises of Chinese companies, including mobile phone maker Oppo, where demonstrators have burned the Chinese flag and posters of president Xi Jinping. One Indian netizen made a historical reference: "Just as India led its Freedom Struggle, the same way we consumers have to lead this struggle and free ourselves from Chinese products."
A state-of-the-nation survey found 90 percent of polled Indians said they would like China-made products to be banned in the country.
The Indian government hasn't explicitly announced a boycott, but by all accounts states and public sector companies have been asked to desist from issuing new contracts to Chinese companies, according to the BBC. The government is also urging e-commerce companies including the start-up Flipkart and Amazon India to label all products sold on their websites with country-of-origin information.
Even before the White House cracked down on WeChat and TikTok, India had already banned those two apps and dozens more, citing national security concerns. Celebrities and television anchors have repeatedly advocated the deletion of Chinese apps for spreading fake news and stealing personal data. India is the world's second largest app market after China.
In a way, as some experts have noted, India may ultimately prove to be a testing lab for what the US might do if China relations continue to worsen.
Chinese state-controlled media have unexpectedly pushed back against the boycotts in India, often in pretty aggressive tones. The Global Times newspaper, one of Beijing's propaganda megaphones, said it would "be extremely dangerous for India to allow anti-China groups to stir public opinion, thus escalating tensions".
As another aside, one small detail indicates that India might actually have a better chance than the US of reshoring production. You probably remember claims that Donald Trump's red "Make America Great Again" caps were actually made in China. Rumors had it that similar red caps in India with "Boycott China" were also made in China. An investigative report debunked the theory – the caps were Indian-made. 
The views and opinions expressed in this article are those of the author and do not necessarily reflect the views of The Kootneeti Team