A Year on, Decoding the Mystery Behind Trump's Kashmir Mediation Offer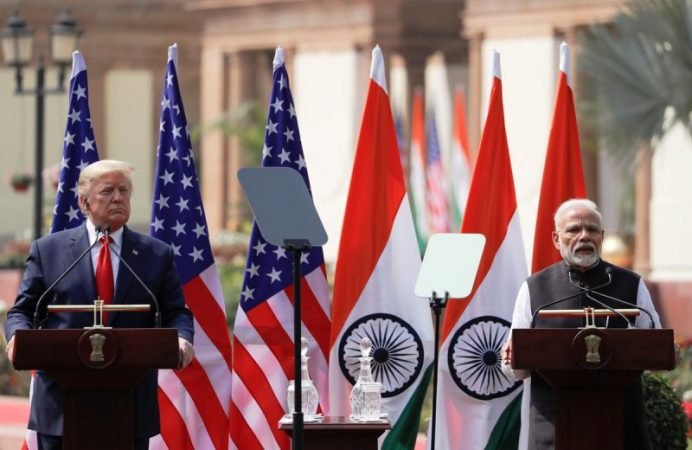 Roughly a year ago, in July 2019, US President Donald Trump stunned many in India by his remark; with an offer of mediation between India and Pakistan over the Kashmir issue. Trump is known for issuing statements on his Twitter handle which sometimes create confusion around the US official positions, giving a tough time to his aides to do damage control.
Many, in India, quickly jumped to the conclusion- clubbing his statement with his random deviations- like Shashi Tharoor, India's former  Minister of State for External Affairs, went on to suggest that Trump had not been "briefed" on Kashmir.
Soon after Trump's statement, the State Department scrambled for clarification, and tweeted, "While Kashmir is a bilateral issue for both the parties to discuss, the Trump administration welcomes Pakistan and India sitting down for talks and the United States stands ready to assist."
The chairperson of the US House of Representatives on Foreign Affairs Committee, Eliot Engel, said that there was 'no change' in the US position on Kashmir. "He supported dialogue between India and Pakistan, but the dialogue's pace and scope could only be determined by India and Pakistan," read a tweet from the official twitter account of the committee. These fragile and contradictory clarifications further deepened the mystery behind President Trump's "K-remark." 
Since then, President Trump has reiterated the offer on four occasions; ruling out every possibility of it being a 'slip of tongue' or 'lack of briefing' on US policy position on Kashmir. President Trump's statements were, in fact, deliberate in nature, and meant for a specific purpose. 

Looking at the circumstances around which the statements came out, and a close perusal of Pakistan's relationship with the United States since 9/11, makes one thing clear- it has an undeniable connection with 'Afghan Peace Process' and Pakistan's instance of using Afghanistan as leverage to poke into 'Kashmir issue.'
Afghan Connection
US President Trump's first remark came on July 22,  2019, in a joint press conference hosted by President Trump himself, during Pakistan PM Imran Khan's first official visit to Washington. Interestingly, it coincided with the period when the US had been negotiating a deal with the Taliban over which Pakistan enjoys considerable influence.
The change in the air was soon felt on the Afghan frontier, just two weeks after Trump-Khan's meeting, when Zalmay Khalilzad, US special representative to Afghanistan reconciliation, on August 2, in his next round of talks with the Taliban in Doha announced that the Taliban wanted to 'conclude an agreement.'
It wasn't an easy journey, though. The Taliban, since 2010, had maintained its position- not to negotiate directly with the Afghan Govt- calling the Afghan Govt 'illegitimate,' and 'puppets.' In January 2019, the Taliban even threatened to walk out of negotiation over agenda differences- most probably over the entra-Afghan dialogue.
Soon after the Taliban's threat to walk out of the negotiation, Pakistan arrested and raided many Taliban leaders in Peshawar and Karachi; forcing the group to return to the dialogue mode, or possibly to agree on intra-Afghan dialogue as desired by Zalmay Khalilzad. In just six months, from January 2019 to August 2019, Khalilzad's remark changed from 'nothing is agreed until everything is agreed'  to 'Taliban is willing to conclude an agreement.'
It was a result of this cooperation by Pakistan- bringing the Taliban to table – that culminated in a state visit to the United States by Pakistan prime minister Imran Khan,    just fifteen months after Trump, in early 2018, publicly berated Pakistan on Twitter for 'lies and deceit'.
Precedents in the Past
In 2009, the Obama Administration authorized its first policy review of the strategy regarding Afghanistan, as the Taliban had started mounting a full-fledged insurgency by then. Along with a consensus over the American troop surge in Afghanistan to reverse the Taliban momentum, there was a realisation among some sections of the administration, especially the State Department,  to take political initiatives; like talking to Taliban and listening to Pakistan's strategic terms in Afghanistan.[1]
Meanwhile, during the same period, Richard Holbrooke, American Special Representative to Afghanistan and Pakistan (SRAP), had been exploring a secret channel (through German intelligence agency, BND) to talk to the Taliban for the first time since 9/11.[2]
Obama wrote a letter to then Pakistan President Asif Zardari, in November 2009, asking their strategic terms in Afghanistan for a peaceful settlement. Holbrooke met Pakistan Army Chief, Gen Kayani to know his perspective on Afghanistan. "It was India all the time," Holbrooke described his answer, "The Pakistanis see everything through the prism of India." Their specific concern was the Kashmir issue and wanted us to lean on the Indians.[3]
Early in 2010, Pakistan Army Chief, Gen Kayani, handed over a 106-page document, which came to be known as 'Kayani 1.O' in Obama's security council, to the then American National Security Advisor, Jim Jones, enlisting Pakistan's concerns, strategic interests in the region, and conditions for cooperation in bilateral ties.[4]  It was the time when the Obama administration was becoming increasingly frustrated with ISI's tolerance of the Taliban's sanctuary in Pakistan and its covert support to the Taliban's leadership.
Among the five key concerns in 'Kayani 1.O', three were related to India- 'mediation in Kashmir,' access to water (glacier water through rivers that India and Pakistan share), and non-hegemonic Asia (an indirect reference to growing Indian influence in South Asia).[5] Documents once again showed, how, throughout the period, Pakistan had been trying to coax Americans into 'mediating in Kashmir.'
For Pakistanis, the United States' limitations in the Afghan war emerged as a bargaining chip to get the US involved in settling their bilateral issues with India, against its own cooperation with the Americans to settle Afghanistan or to rein in the Taliban.
Kayani wrote a second paper and handed it over to America on July 18, 2010. This paper came to be known as 'Kayani 2.0.' Kayani again sought American help to settle its water dispute (an indirect reference to Kashmir) with India. "Address our concerns in the region, and we would help you in Afghanistan," that is what Kayani meant.[6]
ISI got the winds of the secret negotiation between the Taliban and Americans and was furious over their exclusion and non-participation in the talk. Ahmad Pasha, the then ISI chief, warned C.I.A. Islamabad station chief, Jonathan Bank, "If you don't include us, we will be forced to act in the interest of Pakistan."[7] 
Interestingly, Taliban leader Mullah Abdul Ghani Baradar, (the number two in Taliban hierarchy, and the one who signed the US-Taliban Deal in February 2020) was arrested by Pakistan in 2010, supposedly, on the suspicion of initiating secret talks with foreign intelligence agency without informing ISI. Though Mullah Baradar was arrested on a CIA (which was unaware of the progress of the secret negotiation, as talks were owned by the State Department) tip-off, but many believed that Pakistan's willingness to arrest him got more to do with his act of bypassing ISI in secret negotiation than to just its usual cooperation with CIA on their 'war on terror'.[8] 
Kayani handed over his third paper, informally called 'Kayani 3.O,' to the Obama administration, during his Washington trip in October 2010. The letter categorically stated- "You (America) can't win your war, we know Afghanistan." Kayani offered his cooperation to find a political settlement in Afghanistan on one condition, he would require American help in "settling Kashmir" and "other strategic problems" between Pakistan and India.[9]
The year 2010 was a unique year in the region's history- all the Parties involved in Afghanistan (Pakistan, Afghanistan Government, The United States and the Taliban) were exploring the possibilities of strategic realignment, and testing the unnatural alliances. That was exactly what prompted Gen Kayani to write paper after paper, in search of a renewed understanding with the United States.
Linking Kashmir with Afghanistan: Pakistan's OCD
Soon after India's move of scrapping the special status of the state of Jammu and Kashmir on August 5, 2019, Pakistan's envoy to the USA, Asad Amjeed Khan, was quick to suggest that India's move in Kashmir could affect the Afghan Peace Process. Dashing the hope of Pakistan's attempt to link the Kashmir issue with Afghanistan, the Taliban issued a statement asking not to link the Kashmir issue with Afghanistan.
There is nothing new about Pakistan's Obsessive-Compulsive Disorder (OCD) of linking Kashmir and India with Afghanistan. It has its history dating back to its inception as a country in 1947.
Afghanistan, since the creation of Pakistan in 1949, had advocated the idea of independent Pakhtoonistan, in Pakistan's North-West Frontier Province (mostly inhabited by Pashtuns), which borders Afghanistan. Pakistan's first military ruler, Gen Ayub Khan blamed India, accusing it of backing Afghans in its pursuit of Pakhtoonistan inside Pakistan's territory. "Indians think …in the event of war with us (between India and Pakistan) over Kashmir, Afghan should open a second front against Pakistan in the North-West Frontier," he explained.[10]  C Christine Fair, an American political scientist, and expert in South Asia affairs said, "Pakistan's military elites and defence writers link Pakistan's problems with Afghanistan, inextricably to its security competition with India."[11]
Further in the aftermath of the 9/11 attack, on the World Trade Centre in  September 2001, Gen Musharraf, faced immense domestic pressure not to join America's 'War on Terror' in attacking a Muslim neighbour country, Afghanistan. Besides domestic pressure, Musharaff even found it extremely difficult to convince his corps commanders on his decision to join America in its campaign in Afghanistan.
In continuation of its historic obsession with Kashmir, Gen Musharraf, here too, banked on the Kashmir issue to justify his decision to join America's war in Afghanistan. In his famous public speech, in late 2001, Gen Musharraf justified Pakistan's decision to join the Americans to save Pakistan's four main national objectives- sovereignty, economy, strategic assets, and the Kashmir cause.[12] Musharaff said later, "We were on the borderline of being…declared a terrorist state- in that situation, what would happen to the Kashmir cause?"[13]
Over the last seven decades, 'Kashmir' and 'Islam' have emerged as the most convenient tools for Pakistan's ruling elites, to justify any of their actions, and failures which they struggle to do, otherwise. 
As Afghanistan's future depends on the outcome of intra-Afghan dialogue, which is yet to start, for Pakistanis, irrespective of the outcome of intra-Afghan dialogue, India would likely to remain a reason for instability in Afghanistan, once the American and foreign troops depart. 
Will we hear it again in the future?
Since July 2019, every time Trump uttered the "K-word," it has preceded or followed, either by a meeting with Pakistan Prime Minister Imran Khan, or with significant progress on dialogue front with the Taliban, and even both, in some instances. Last time when President Trump repeated the offer, was during his first state visit to India in February this year, four days later of which the US signed the historic US-Taliban agreement on 29 February 2020.
India, on the other hand, in continuation of its long-held policy, ruled out every possibility of third party involvement in its bilateral issues, including Kashmir, with Pakistan.
Neither does it play well in larger interests of the USA, to push India too far in this regard as it has many more strategic interests, of greater importance, with India in the Indo-Pacific region. As of now, the purpose of Trump's Kashmir remark seems partially fulfilled with the signing of the US-Taliban agreement.
Intra-Afghan dialogue between the Taliban and the Afghan government is yet to start. This phase of negotiation would be even tougher and complex than the earlier, phase one. Pakistan remains the only player in the region that would have reduced, but significant influence over the Taliban to force it to compromise in phase two of dialogue if the need arises. We shouldn't be surprised at all, if we, again occasionally get to hear "K-word" from the American President.
Being on the Financial Action Task Force (FATF) greylist, facing international isolation after the Balakot episode, and having an economy on life support – for Pakistan these were the least favourable conditions to get an American President issue a mediation offer on Kashmir.
But, for any American president, the mere lip service to the Kashmir issue would probably be the cheapest cost to pay against Pakistan's cooperation in settling its longest and the most exhaustive war in Afghanistan. For Pakistan, it was like a return to relevance. 
---
Footnotes
Steve Coll, Directorate S (Penguin Books 2019) P 401
Steve Coll, Directorate S (Penguin Books 2019) P 422
Steve Coll, Directorate S (Penguin Books 2019) P 406
Steve Coll, Directorate S (Penguin Books 2019) P  434
Steve Coll, Directorate S (Penguin Books 2019) P 434
Steve Coll, Directorate S (Penguin Books 2019) P 460 
Steve Coll, Directorate S (Penguin Books 2019) P 499
Steve Coll, Directorate S, (Penguin Books 2019) P 444-5
Steve Coll, Directorate S, (Penguin Books 2019) P 502
C. Christine Fair, Fighting To The End – Pakistan Army's Way of War (Oxford University Press, 2019, South Asia Edition) P 112
C. Christine Fair, Fighting To The End – Pakistan Army's Way of War (Oxford University Press, 2019, South Asia Edition) P 113
C. Christine Fair, Fighting To The End – Pakistan Army's Way of War (Oxford University Press, 2019, South Asia Edition) P 77
Steve Coll, Directorate S, (Penguin Books 2019) P 54
The views and opinions expressed in this article are those of the author and do not necessarily reflect the views of The Kootneeti Team