What stops the women in South Asia to participate in the labour force? Where does India stand?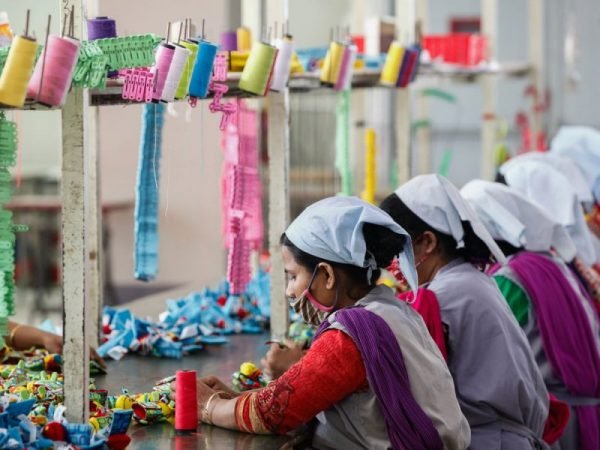 "No country can develop and achieve its full potential if half of its population is locked in non-remunerative, less productive and non-economic activities".
– The World Bank
The female labour force participation in South Asia is only 23.6% as compared to 80% for men. The female employment rates have been falling since the economic growth of the region picked up after better integration with the world economy. This phenomenon results in formation of a U-shaped female labour force function, whereby the female employment rates fall in areas experiencing economic growth and then increase subsequently (Claudia Goldin in 1995).
The female labour force participation rates have particularly been falling for educated urban women. Klasen and Peters (2013) argue that this has come about as a result of limited participation of educated women in sectors suitable for them, for instance, the white-collar jobs, while at the same time the proportion of graduates in the overall working-age population have nearly doubled.
The surprising fact about falling female employment rates in South Asia is that they declined much more than could have been anticipated. The rate will continue to decline as countries, for instance, India, are still growing at a very fast rate and are expected to see greater urbanisation. Thus, this issue demands a greater degree of attention.
The reason why policymakers have to worry about this issue more is because of the huge positive spillover effects associated with higher female labour force participation. A greater share of women in household incomes is directly related to children being healthier and doing better in school. Women working for pay also results in them having a greater voice in their household. To provide an example from Bangladesh, female employment in Bangladesh's garment industry resulted in "reduced fertility, increased age at marriage, and higher educational attainment" (Heath and Mobarak, 2015).
Economies such as South Asia have a lot to gain from women participating equally in the labour market. A study by IMF indicates that on an estimate the overall economic gains that South Asia can achieve out of closing gender gaps in employment and entrepreneurship would be close to 25%. This task, however, is accompanied by roadblocks that stop women from participating in the labour market and pose challenges to the policymakers.
Challenges
It is important to lower the barriers for the entry of women into the labour market for inclusive growth in South Asia. Gender-related norms and perception of society are one such major barrier. There exist ideas about what is a woman's typical work and that she is supposed to take care of the children and housework. It has often been found that in households where the man is likely to perceive that society is going to think bad of him if his wife works, usually have lower participation of women in the workforce. Women are seen as secondary income earners (Kapsos 2014). It has been found in rural high expenditure categories that with an increase in household income, women are often withdrawn from work. The male member providing a comfortable life for the family is seen as a thing of pride. This perception of women as secondary earners also result in women not getting wages in par with men.
The problem aggravates for married women who often have a low labour force participation rate (LFPR). There is no flexibility to work arrangements, less institutional support for child care (for example— maternity leaves and creches, etc). For instance, " in India the Maternity Act (Amendment) 2016 places the entire cost burden of women's leave on employers disincentivizing women's hiring in the formal sector" (Mehrotra et. al. 2017). There too are legal barriers such as working hour restrictions that limit female participation. There are laws that govern where and when can a woman work. In some South Asian countries, the participation of women in export-oriented manufacturing job took a downfall despite an increase in trade and fewer barriers since the 1990s because of constrained working hours for women emerging out of factory laws (Gupta, 2014).
Women also have limited access to public services and resources. The land is required as a primary asset for collateral in order to get loans for Small and Medium Level Enterprises (SMEs). Women micro-entrepreneurs suffer difficulty in this regard. Adding to the problem, the loan officers are usually male who often are less sympathetic towards the financial constraints of these female entrepreneurs.
According to the Deloitte report titled 'Empowering Women & Girls in India', women are set to face special challenges in the Fourth Industrial Revolution. The report points out, "a definite concern arises from the advent of technology, digitisation and automation that women who are largely employed in low skills and low paying jobs will lose their place in the workforce". There is a lack of skills because of lower education level amongst women. Therefore, attention should be paid in this regard by investing in research & development ecosystem and also through vocational programmes in order to offer the job skills required with changing times.
COVID19 brings along with it some special challenges. Many women along with their family members, moved to villages where their fields are located. If the slowdown continues for long, these workers will have to be accommodated into the rural sector. Since their number is large, alternative job opportunities will have to be created on a large scale. It looks unlikely that they might get to the same positions when they return to the cities as the economy takes a plunge. Women are much more prone to suffer adversely and the pandemic and the period post it will be a real testing period.
Where does India stand?
 LFPR for women in India has reached its lowest since independence. The female LFPR in India reached its peak in 1972-73, post which it has been declining. In 2017-18, the rate was much low at 17.5%. Only nine countries, including Syria and Iraq, now have female LFPR lower than India. If Bihar would have been a country, it would have had the lowest share of women working in proportion to the total working population.
A sector-wise analysis would reveal that share of women in agriculture and manufacturing sector has declined, whereas the share of women working in the services sector has increased from 35.7% in 1977-78 to 60.7% in 2017-18. Women are engaged in careers with restricted progress over time. These include—nursing and teaching, etc. Amongst urban women, domestic cleaning has the second-highest share of women employment, second only to textile-related jobs.
According to the report published by Deloitte in 2019, 95% or 195 million women in India work in the informal sector or engage in unpaid work. One-third of all the self- employed women work as unpaid family members. Women in India like the other parts of South Asia face all the possible barriers and often face discriminations at work. India does poorly on most of the gender disparity related indexes.
Although considerable gains have been achieved by the country in female education, these women fail to get a job. Many job opportunities are not open to women. In 2016-17, 29.1% of illiterate women were employed, which is greater if compared to 16% of women who had at least secondary education. Education does not cater to the needs of changing times. Dire predictions were made by Mckinsey Global Institute in 2019. According to them, with the oncoming fourth industrial revolution, 12 million people could lose their jobs as more and more sectors of employment become automated. India has a huge digital divide and women are the worst sufferers even in this regard. Thus, with less education and skills, it would become difficult for women to shift to jobs that require technical knowledge. It can be ascertained that India, like the other counties of South Asia, has not done justice to its women despite the fact that the country progressed towards higher rates of growth.
The Way Forward
As multiple factors are involved in stopping women to work and get employed, a comprehensive policy approach should be worked upon. As pointed out earlier, with the incoming automation, women are set to face the loss of jobs as there is a lack of job skills and education amongst women of South Asia. It has also been remarked that women even with education skills, specifically in rural areas, are worse off when employment rates are compared. In order to deal with both these problems, a solution could be to train women so that they can come with their own small-sized enterprises. Those with their own enterprises can be given initial training to create an entrepreneurial mindset. This has led to increased income for women in West Africa and Peru.
Married women have suffered due to various reasons. Employers need to be made more sensitive to issues faced by women through spreading awareness. In order to finance maternity leaves, grants should be provided to SMEs. Other incentives need to be provided to firms providing a welcoming work condition to women. Flexible work arrangements should also be worked upon. The pandemic has shown that work from home is a possibility and such and other arrangements like part-time work and reduced working hours can ensure that women have greater chances to return to work post-child-birth.
Female employment rates have been low for manufacturing sectors. In this regard, female-oriented industries, particularly garment related industries, should be promoted by the government. The indirect opportunities created out of this can result in home-based work and self-employment amongst women. Manufacturing industries are often also present far off from the city centres. This results in security-related fears and lack of available secure transport facilities. Public transport system needs to made safe and secure. There too needs to be higher investments by the government on public transport which would require the involvement of private sector to generate funds. Thus, incentivised opportunities need to be created.
Policies that challenge key developmental constraints but do not directly target women can also enormously benefit women. Rural electrification is one of them. In Bangladesh for instance, female participation is 7% higher in houses that are connected power grid in comparison to houses that are not. Electrification lowers the chores that women have to do and saves them some time to work. Similarly, openness to international trade has a positive impact on the employment of women. This is more true for apparel sector where women are largely employed. Evidence for this comes from Bangladesh. The country was an outlier amongst South Asian countries with falling female employment rates as the country is becoming an international powerhouse in garment exports.
Gender issues are often found at the periphery of the policies of countries in South Asia. A gender lens to decision making has to be provided. Women have been supporting the task of nation-building from sides. It is time now to give them their due credit by creating opportunities that allow them to acquire centre stage and be the torchbearers of holistic developmental goals.
REFERENCES
Revenga, Martin. 2020. "How To Boost Female Employment In South Asia". Brookings.
Najeeb Fatima, Morale Mátias and Lopez-Acevedo Gladys. 2020. "Analyzing Female Employment Trends in South Asia". World Bank and IZA.
Nikore, Mitali. 2020. "Where Are India'S Working Women? The Fall And Fall Of India'S Female Labour Participation Rate". LSE.
Tanwar Jagriti and Kalaiyarasan A. 2020. "Declining Female Labour Participation In India". LSE.
"Female Labour Force Participation In India Fell To 26% In 2018: Report". 2020. The Hindu.
The views and opinions expressed in this article are those of the author and do not necessarily reflect the views of The Kootneeti Team