Buddhism in Africa: The Chinese Peacemaking that got off track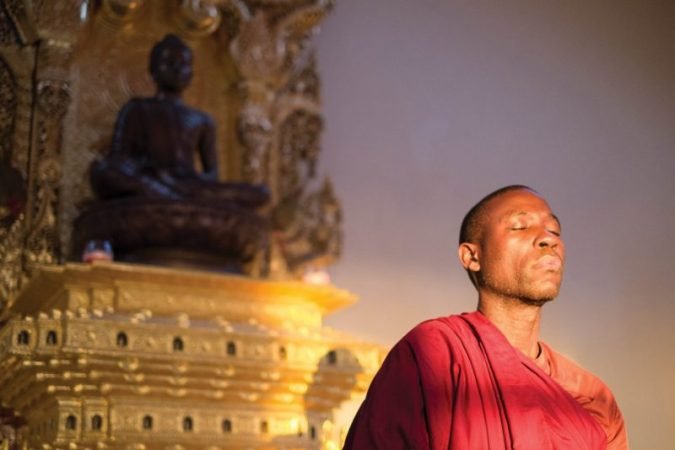 In 1992, when the former Secretary-General of the United Nations, Boutros Boutros – Ghali released his report 'Agenda For Peace', the nations received a concrete 'way forward' in black and white for their contribution towards achieving world peace. 
Along with the key areas ranging from Peacemaking, Peacekeeping and Preventive diplomacy, a crucial aspect of Peacebuilding was introduced. Many nations contributed their part either in peacekeeping forces or as a third party in mediation.
When the Democratic Republic of China was formed, it swore to strictly adhere to its policy of non-intervention in the political and internal matters of any sovereign state. However, as the world dynamics demanded, it stepped as a mediator between various African and Asian nations.
The key aspect of an investment includes a stable political environment and particularly in the case of Africa, it became important for this Asian giant to intervene as its assets were at stake.
In fact, China was successful in tapping the African insecurity. A continent which has always been treated as a colony accepted the Chinese helping hand with a promise of equality and upliftment.
The political representatives and financiers paved the way for Buddhism where eventually schools, monasteries and orphanages were set up for the society. With monks and their teachings, China provided Africa, both with the material as well as the spiritual upliftment.
Perhaps, the English and Spanish colonizers discovered the 'new world' only for trade and then came along the missionaries and evangelists, with the rest being history. This might portray the dubious reality of  China.

From Peacemaking to Post-Conflict Peacebuilding
In 2013, the Chinese dream project – Belt and Road Initiative (BRI) took off and it couldn't have afforded passing through a conflict-ridden nation. Hence, the mediators were appointed to eliminate the differences between South Sudan and Sudan, and the Democratic Republic of Congo and Rwanda.
It is an open secret that China never indulges in a short term profit or something that is not of strategic importance. In Africa, it received a society which requires institutional development at all the levels.
In South Africa, China didn't limit itself just by providing domestic security, creating employment and addressing health care, it went a step further and promoted Mandarin in the school curriculum. It is believed that the Indian indentured labourers who were sent there to work in sugar industries, introduced Africans to Buddhism.
From then there was no turning back and the religion was adopted by many. Tanzania, Uganda, Malawi, South Africa and Botswana saw the emergence of Buddhist monasteries and academic centers. The major constructions include schools and orphanages which inculcate activities like daily morning prayers followed by breakfast and Buddhist teachings till noon. The priests and the monks encourage students for gardening, building walls and other aspects like social harmony and four noble truths of Buddhism are imparted.
With orphanages in particular, China strikes exactly where it hurts. The longing to be loved. Hence, spiritual guidance is provided by a friendly staff which in return earns the loyalty of the African youth for lifelong.
Simon Manase Masauko was born in Malawi and took monastic training in African Buddhist College in South Africa where he studied humanistic Buddhism, which is a sect of Mahayana Buddhism. After gaining his spiritual awakening, he received his Dharma name 'Ben Xing'. However, when he went to Myanmar for his further studies, he realized the limitations of Buddhism in the absence of the concept of God. The Africans always look for someone to pray, not a deep process of mediation. It's hard for the masses to understand the aspects of supernatural powers other than evil spirit and therefore Buddhism is still limited there.
Hurdles in Spirituality
Many times the political leaders introduce policies that are incomprehensible or are detrimental for the masses. The same happened with the introduction of Mandarin in African society. The students confessed that their mother tongue was similar to English, but Mandarin was complex and puzzling.
The same dilemmas are portrayed in the Oscar-nominated documentary by Nicole Schafer 'Buddha in Africa'. Her four-year-long study on a Malawi teenage orphan, Enock, displays the identity struggles of a boy in terms of losing himself in the search of the self.
He tries to fit into a culture where foreign Chinese teachers dictate in Mandarin and make them mediate by the evening. Ironically, he feels trapped in a monastery which teaches others the power of liberation. At last, he has two choices – either leave the country and go for a scholarship to study in Taiwan or remain here and rot like others, as the priests warn.
Buddhist teachers are helpful but it is the image of the colonizers that the Africans cannot evade. The white skin often reminds them of the suppression they have faced or heard stories from their elders. Also, there is a very little understanding of the Sino African relation on either side.
In Africa, Christianity and Islam have majorly followed religions as their preachers tell what people want to hear, to calm their hearts in a conflict-ridden situation and that too in popular dialects. Whereas, Buddhist discourse and hymns are incomprehensible as the language is the biggest hurdle. The mass kitchens and schools do provide a class which 'looks' literate but in fact they are culturally Africans, nodding for a future which is blurred out.
 Way Forward
With a half-hearted acceptance of Buddhism in African society, it's time for China to focus on the real issue it started with. The society not only needs hospitals, roads and bridges, but something sustainable to dwell upon. In the long run, China may be able to influence the African youth through Buddhism, but it will end up riding two horses at the same time. If China believes that it can replace African nationalism, then it is mistaken. The tribal society is not ready for any other take over.
What they need is something tangible. If required, the Chinese government should use a carrot and stick approach and ask the African leaders to strengthen their tribal dispute redressal societies at the grass-root level. It will contribute more to the nation-building from below and would be beneficial for the society as well as for the investor, irrespective of Chinese, American or French.
At last, unlike the western colonies, China has a great potential to create a positive impact in the African society and if soft power like Buddhism is promoted in local dialects, it can be beneficial in promoting community service if not faith in particular.

The views and opinions expressed in this article are those of the author and do not necessarily reflect the views of The Kootneeti Team