Pakistan–Turkey–Malaysia: India's 'Axis of Evil' or Different Agendas altogether
August 5, 2019; India withdrew the special status of its State of Jammu & Kashmir which the latter was enjoying through Article 370 of Indian Constitution since its accession to Indian Union. Though India considers Jammu & Kashmir as its integral part but in regular intervals, it went to dialogue with Pakistan where Kashmir remains a point of contention. Per Indian view; Pakistan sponsored Terrorism is the key issue on Kashmir while Pakistan always wanted to fulfil its so-called unfinished agenda of partition by bringing Kashmir into its own fold. Post General Election of 2014; India made efforts under its Nationalist BJP Government which inevitably once again died after consistent & frequent Terror Attacks on Indian soil lasted by the Pulwama Attack. Unlike previous Indian Prime Ministers; Narendra Modi chose to retaliate twice after Uri & Pulwama Attacks. However, the surprise came after his re-election in 2019 when his government abrogated Article 370 from Jammu & Kashmir. Although it was always on BJPs (Bharatiya Janata Party) Agenda but few had expected that it would ever go that far. Now there could have been many reasons ranging from avoidance of US pressure for dialogue & mediation with Pakistan on Kashmir issue to the diversionary tactics for the slowdown of the economy but needless to mention that the decision was well accepted among the masses so as among the many key opposition leaders & parties which helped the Government to sail through the Parliamentary Obligations including in Rajya Sabha (Upper House of the Indian Parliament) where it is a minority.
Changing constitutional status within India's jurisdiction is "non-issue" for Global Community except Pakistan & China. China even moved beyond standard lip service & went to UNSC. Britain & Russia took a dubious stand. But the biggest slap came to Pakistan when it failed to register any objection from any of its key allies within OIC (Organization of Islamic Countries). The so-called "Umma" (Muslims all over) has rejected Pakistan's call even to mention for once as far as the Kashmir Issue is concerned including countries like Saudi Arabia & UAE.
But this rejection of Umma ushered a new equation for Pakistan along with two other countries; Turkey & Malaysia. This new equation first came into play at 74th United Nations General Assembly (UNGA) at New York where categorically Turkey & Malaysia both commented negatively on Indian Decision on Revocation of Article 370 by mentioning the deteriorating Human Right situation in Kashmir including the Communication Blockade imposed by Indian Government. Pakistan went many steps further & used the UNGA Podium to threaten Nuclear War on India if the Global Community failed to react. The message these countries spread from the UNGA & a meeting thereafter is meant for Indian Treatment towards Kashmir but not meant for "Kashmir" only. Historically Islamic Umma was led by Saudi Arabia holding the keys of the two holiest places in Islam; Mecca & Medina; a coveted & prestigious position hold by the Saudi Royals.
The Neo Ottomans
And here starts the coagulation. This coveted position started getting more & more challenges mainly from Turkish President Recep Tayyip Erdogan under his assertive foreign policy deemed as "Neo Ottomanism"; a concept which was coined by former Turkish Foreign Minister & later Prime Minister Ahmet Davutoglu. It is also believed that this radical idea was the brainchild of Greek Geopolitical Professor Dimitri Kitsikis. Historically Ottoman Empire was a Great Power Centre at its peak having its reach to the Balkans, Caucasus, North Africa & Most of the Middle East including the two holiest places in Islam; Mecca & Medina. Erdogan first as Prime Minister & then as President continuing the same policy of assertiveness to revive the lost glory of the Ottomans.
He was vocal when Egyptian President Morsi was removed in a Military Coup, He was vocally critical against the Israelis, he was adamant in not accepting the Armenian Genocide carried out by the Ottomans during First World War. Syrian Civil War gave Erdogan the opportunity he was looking for many years. He was never in love with the Assad Regime nor with the Alawite sect of Islam which Assad belongs to. Turkey came in support of the Anti-Assad Forces to the extent of supporting factions with questionable legalities. Illegal Syrian Oil trade flourished with Islamic State under direct involvement of Necmettin Bilal Erdogan; the third born Harvard Post-Grad of President Erdogan. Erdogan took a bold stance against the Russians when the latter had intervened in the Syrian Civil War in support of the Assad Regime. Shooting down of a Russian Jet by Turkey brought these two nations dangerously close towards armed conflict. Although the conflict was averted in compromise by Erdogan, the incident of shooting down of Russian Jet boosted enough prestige to Erdogan himself as Turkey became the only NATO country to shoot down a Russian Jet. In June 2017; when Gulf Cooperation Council imposed sanctions on Qatar for its support to Terrorism; Turkey directly opposed it first & came in support with all kinds of aids including Military Deployment which is directly inverse to the Saudi Stance.
Erdogan is further emboldened with the Disastrous Military Adventure; the Saudis are facing the Houthis in Yemen. Its young Crown Prince Muhammad Bin Salman (MBS) also got badly entangled in the murder of Saudi Dissident Jamal Khashoggi that too in Saudi Consulate in Istanbul; Turkey in October; 2018. Erdogan took full benefit of the situation in the name of the Impartial Investigation. The more the Saudis are siding with Western Governments to showcase its moderate face & willingness to reform the administration; the more Erdogan will take the opportunity to showcase himself as the saviour of Islamic Umma. "Kashmir" is just one such reason where the silence of the Saudis got encashed by the wily Turkish President to wield his support for Kashmiri Muslims. More salt to the wounds; Erdogan deliberately lectured India on its "Citizenship Amendment Act" as well as very recent "Delhi Riots". Remarkably in each case; Saudis & Emiratis found it suitable to not pinch India. Pakistanis may be jubilant for the vocal criticism by Erdogan against India but not to forget that Erdogan will take every single opportunity to be vocal to showcase himself as the Champion of the Faith. Now if we evaluate how Pakistan could be helpful to the Turkish President's dream to lead Umma then we must understand that to pursue this dream he made Turkey the first NATO country to purchase Russian Air Defence System even at the cost of the most advanced Fighter Jet F-35 from US & vehement US objection. Now to suit his dream further to lead a Mighty Army; Erdogan also dreams to have Nuclear Weapons something which shall be very much his own; not something which is leased & controlled by the US under NATO rules of engagement.
The Fortress of Islam
Here enters Pakistan the so-called "Fortress of Islam" the so-called "Riyasat-e-Medina". The only Islamic Nuclear Weapon State with its own "Islamic Bomb" along with very much desire to lead the Umma. But the desire to lead Umma has been severely hit when it had lost half of the Country to its arch-enemy India. Moreover, India proved itself a vibrant democracy with huge economic growth while Pakistan lost its way. The situation further worsens to its credibility due to its continuous supports both logistical & military towards the Terrorist Groups to use them as an extension of Pakistan's Foreign Policy for India or Afghanistan. It has learnt by the hard way about its position when it comes to the situation in Kashmir post abrogation of Article 370. Desperate to sale its own narrative whether on Indian Atrocities in Kashmir or the "Anti-Muslim" Citizenship Amendment Act of India; Pakistan found nearly no takers. Unfortunately, it has found nothing in its inventory that could draw attention towards Pakistan except "The Islamic Bomb". Here it found Turkey; an eager taker of Pakistani narrative on Kashmir but definitely for its own purpose. The interest of Turkey in developing its own Nuclear Arsenal intersects with Pakistan's desire to get support from Turkey for its narratives against India.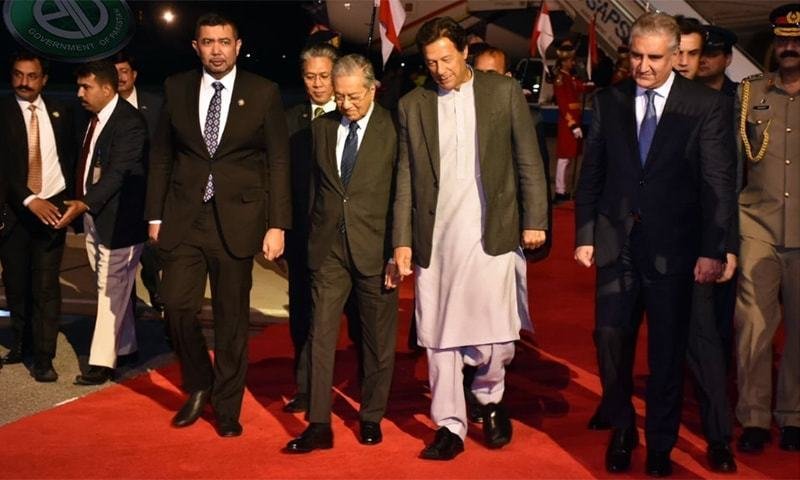 The Odd Man; Malaysia
Malaysia, however, stands mostly as "THE ODD MAN" compared to the delicate interests of Turkey & Pakistan. Unlike the other two; it neither has any dire territorial aspiration towards its neighbours nor any strategic aspiration of Geopolitical Dominance. Yet it has chosen to take a stance with Pakistan & Turkey to criticize India on its dealing of Kashmir situation though Malaysia was never known for any desires to have nuclear weapons or to lead the Umma even though the region it belongs to have significant Muslim population. Author Sven Schottmann correctly describes this phenomenon as the "Mahathir's Islam". Mahathir's engagement with Islam is often deemed as partisan. But his clever manoeuvring of the notion of "Islam" helped him to be the longest-serving Prime Minister of Malaysia & at the age of 95 years, he was on the chair since 2018 until now. This shrewd approach of using "Islam" helped him to create an identity separate to other contemporary politicians.
But evidently his approach is always contradictory. While he emphasized on Pluralism & Democratic Values in use of Islam; he at the same time also allowed legislation for Religious Bodies to curtail Religious Freedom for Non-Muslim as well as for the Muslims which resulted in worsening inter-ethnic relations let alone some bloodiest clashes between Hindus & Muslims as well as feuds between Shias & Sunnis. Guided with this concept of this "Applied Islam"; Mahathir spoke openly against India in UNGA. We should not forget his speeches just the day next to UNGA on China's treatment of Uighur Muslims where he was very categorical that one should be practical before condemning China's act on Uighurs considering his own interest in priority over the plight of the Uighurs because China is a powerful country. Hence Mahathir's act in UNGA against India is a calculative one to satisfy his more conservative domestic audience as well as international diaspora which is far better than agonizing China which involves much more risks. However with Domestic Political Compulsion; Mahathir resigned from both as Prime Minister & from his Political Party Leadership; it is less likely that under new leadership Malaysia may further wish to continue this specific agenda based relationship with India which only brings animosity from the World's largest Democracy considering India's retaliation by shrinking the import of Palm Oil from Malaysia.
Conclusion
Now to conclude we find no single interest that intersects each other rather a convergence of different interests between these countries covered up in the name of Islam where one wants to bring back the glories of the Ottomans while the other wants to pin its mortal enemy with humiliation & the rest one is willing to satisfy mainly its domestic audience. While they together plan to open up a News Channel to address Islamophobia but needless to mention that it's intended to bombard with the narratives that suit these three countries only. This is very much an "Axis" but not "The Axis of Evil" rather "An Axis of Beneficiaries" who wishes to share profits in the name Islam.
And at last like the characters from Mario Pujo's Book "The Godfather"; we shall not forget the possibility of the presence of "Don Barzini" behind the curtain instigating all the "Tattaglias" to pinch its strategic rival. We shall not forget the possibility of the presence of China behind the curtain to help these three countries to come together to pinch China's Strategic Rival; India.
The views and opinions expressed in this article are those of the author and do not necessarily reflect the views of The Kootneeti Team