How successful is Macron's visit to East Africa?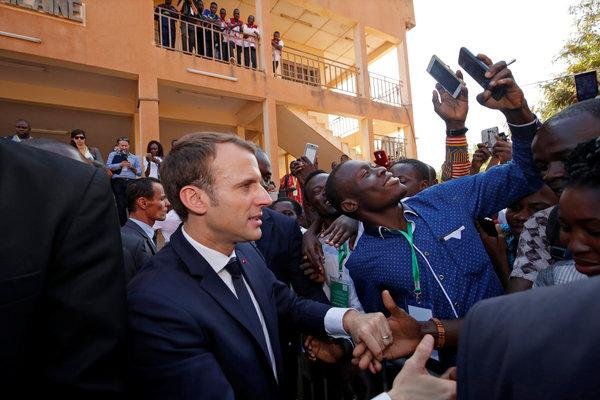 In a four-day trip to Djibouti, Ethiopia, and Kenya, the French president is undertaking a strategic tour aimed at deepening economic and political ties, boosting the role of French businesses in the region, and countering China's growing place on the continent, besides signing a mix of both military, infrastructure, and creative deals. The visits to Ethiopia and Kenya, where he is today (March 14), clearly mark Macron's turn towards heavyweight non-Francophone states, who boast of some of the most populous and fastest-growing economies in the continent.
Macron in his visit to Kenya pledged for greater partnership for economic development and for environmental improvements and to battle regional extremist violence. He met Kenyan President Uhurru Kenyatta and fired a new car model which was at the Peugeot factory in the East African Country. 
He said that they wanted to be a part of its new growth agenda. Macron disclosed a new Peugeot 3008 SUV which will be locally assembled by the French car manufacturer. Kenyatta further claimed that Macron's visit to his place is a good step towards the development of Kenya's tourism and business. The two Presidents also signed an agreement for the development of public and private partnerships.
Read: Macron warns of Chinese risk to African sovereignty
Macron visited Kenya after visiting Ethiopia and Djibouti on a trip that had focused in the development of investment and security in East Africa. Recently, in Ethiopia the country had faced a tremendous plane crash killing 157 innocent passengers to which Macron paid his condolences and confident gesture. Macron said that France will work with Kenya on green energy.
Macron's visit to Ethiopia was tremendous. He and the Ethiopian Prime minister Abby Ahmed discussed ways on enhancing bilateral cooperation between Ethiopia and France in Paris since both the two countries have longstanding good relation and further want to strengthen the ties with France. Abiy expects Macron that he would act as a peacemaking element with the neighbouring countries, Eritrea and Djibouti. They both have also promised each other about cultural cooperation especially in World Heritage Sites like the Rock-Hewn churches in Lalibela. Further, Macron extended its support to Ethiopia, calming its domestic tensions. He admired Abiy to have taken risks in advocating such reforms in Ethiopia.
Before all of his visits, Macron clearly stated that the future of Africa is in the hands of the younger generations and hence they needed to be supported. If they are to be the source for the uplifting of the country, they have to receive proper education and work prospects on the continent to advance the metamorphosis of Africa.
Critical Voices
While Djibouti was regarded as a key French outpost in the past, Macron is only the second French leader to visit the tiny country of 1 million people in the last 20 years.
In a reminder of Beijing's growing presence, Macron was received at Djibouti's new Chinese-built presidential palace.
"Business is business. The Chinese invest here, while the French aren't competitive," a Djibouti government official said. "The French are late, very late. And they have no money."
Djibouti's president accused France in 2015 of abandoning Djibouti and investing very little there.
Macron said French firms were ready to invest in Djibouti for the long term but a better business environment was needed to shore up the country's attractiveness to investors.
No commercial deals were signed during his visit.
The views and opinions expressed in this article are those of the author and do not necessarily reflect the views of The Kootneeti Team