Indian peacekeepers recognized for exemplary service in UN South Sudan mission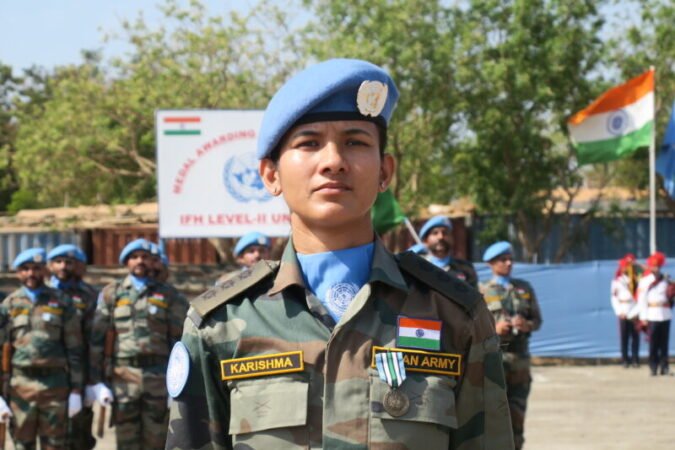 "We are in contact with the local population and they can see that we, women, are leading a team and we are both respected and listened to"
Over 1,000 Indian peacekeepers serving with the UN Mission in South Sudan (UNMISS) were honored with prestigious UN medals at an award ceremony, where a female officer of the Indian Army, Major Jasmine Chattha, led the parade for the first time.
The ceremony, which was held in Upper Nile, recognized 1,171 peacekeepers from India for their exemplary service.
The UNMISS mission tweeted, "Take a bow, #India! Exactly 1,171 of your finest sons & daughters have received @UN medals for their vital #UNMISS work in Upper Nile, #SouthSudan."
In a report published on the UNMISS website, Major Chattha stated that it was an honor to represent her regiment on this special day and that by placing women in leadership roles, the mission is sending a strong message to the citizens of South Sudan, especially women.
Chattha highlighted that as they performed their duties while serving in the mission, including efforts to repair roads or try to mitigate floods, "we are in contact with the local population and they can see that we, women, are leading a team and we are both respected and listened to."
UNMISS Force Commanders Lieutenant General Mohan Subramanian presented the medals to the peacekeepers at the ceremony. Of the 1,171 troops honored with UN medals, five are women, peacekeepers.
Recognition for their exceptional service
The Indian peacekeepers were recognized for their exceptional service in various aspects of the mission. They were involved in providing security for thousands of civilians, no doubt saving lives in the process, and creating conducive conditions for humanitarian assistance. They have left an indelible and endearing mark in South Sudan.
Captain Karishma Kathayat, an engineer serving in the mission, said that it is a "great feeling" to contribute to a "better standard of living of the people we are here to serve. Our engineering work is something we take great pride in." The peacekeepers were also involved in providing critical emergency surgery and saving the lives of five children. Major Amanpreet Kaur, a doctor deployed with the mission, said that without these interventions, the children could have lost their lives or would have sustained disabling limb deformities. "We have already learned a lot by providing healthcare to both UNMISS staff and our South Sudanese hosts who come for emergencies or special treatment they cannot find elsewhere. Seeing previous patients coming back in good health is a priceless experience," she said.
The award ceremony and recognition of the Indian peacekeepers is a testament to India's commitment to UN peacekeeping missions, and the high standard of service provided by its peacekeepers. India is among the largest troop-contributing countries to UN peacekeeping missions and its peacekeepers are lauded for their outstanding work and for going above and beyond their duties while serving in the missions. As of June 2022, 2370 Indian military personnel are deployed with UNMISS, the second highest after Rwanda (2637).
In recent years, India has also increased the number of women peacekeepers in its contingents, with the deployment of the largest platoon of women peacekeepers to the United Nations Interim Security Force, Abyei (UNISFA) last week.
India's Permanent Mission to the UN said the platoon of women peacekeepers being deployed in Abyei as part of the Indian Battalion in UNISFA is India's largest single unit of women peacekeepers in a UN Mission since the country had deployed the first-ever all-women's contingent in Liberia in 2007. India has stressed that the role of women peacekeepers cannot be over-emphasized in effective peacekeeping.
The views and opinions expressed in this article are those of the author and do not necessarily reflect the views of The Kootneeti Team