BIMSTEC: Discovering the Importance of the Bay of Bengal Initiative for Multi-Sectoral Technical and Economic Cooperation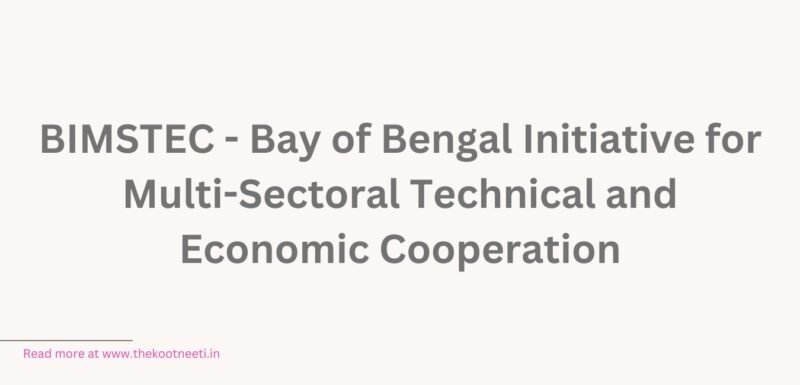 BIMSTEC (the Bay of Bengal Initiative for Multi-Sectoral Technical and Economic Cooperation) is an international organization that promotes cooperation among countries in the Bay of Bengal region. BIMSTEC was established in 1997 and its member countries include Bangladesh, Bhutan, India, Nepal, Sri Lanka, Thailand, and Myanmar.
BIMSTEC works to promote economic development and cooperation, as well as cultural and technical exchange, among its member countries. The organization focuses on a range of issues, including trade and investment, transport and communication, tourism, agriculture, and the environment. BIMSTEC also promotes regional integration and works to address common challenges facing its member countries.
It operates through a number of mechanisms, including meetings of heads of state and government, meetings of senior officials, and technical working groups. The organization has a Secretariat located in Dhaka, Bangladesh, which coordinates its activities.
India is preferring BIMSTEC over SAARC
BIMSTEC includes countries from both South and Southeast Asia, which allows for greater regional integration and the potential for increased economic and political cooperation. In contrast, SAARC is limited to South Asian countries. Therefore, India has high hopes and vision for BIMSTEC
Another reason may be that BIMSTEC has a more focused and practical approach to regional cooperation, with a specific focus on economic and technical cooperation. SAARC, on the other hand, has a broader mandate and has had difficulty in achieving concrete results in many areas.
India is also prioritizing BIMSTEC due to the organization's emphasis on regional connectivity and infrastructure development, which aligns with India's own development priorities.
The views and opinions expressed in this article are those of the author and do not necessarily reflect the views of The Kootneeti Team