Prime Minister Shinzo Abe: A legacy of India-Japan friendship
Former Japanese prime minister Shinzo Abe's assassination has put the world in shock. He was Japan's longest-serving prime minister who held the office from 2006-2007 and then again from 2012-2020.  On the 8th of July, he was shot dead during the daylight while campaigning in the streets of Nara western japan, which was very appalling considering the strict gun laws of the country. This incident raised serious questions on Japan's image of being one of the safest countries in the world with strict security regulations in the wider international community.
Shortly, after Shinzo Abe's death, Indian prime minister Narendra Modi announced the preceding day of national mourning in India for the deceased leader.
Abe played a major role in strengthening India and Japan's bilateral relations. India – Japan relations have a long history dating back to Buddhism acting as a common connecting factor between the two nations. Prime minister Narendra Modi shared a special tie with Japan since the time he was serving as a Chief Minister of Gujarat. Shinzo Abe was the only Japanese leader who made frequent visits to India. In the year 2014, Prime Minister Narendra Modi visited Japan for an official summit with Japanese prime minister Shinzo Abe. In this summit both the Leaders agreed on upgrading their bilateral relations with each other to "special strategic and global partnership ". Subsequently, in the year 2015, Shinzo Abe gave a formal visit to India.
Both the Prime Ministers agreed on transforming India-Japan special strategic and global partnership into an action-based partnership which would mirror and connect their long-term political, economic and strategic goals. In fact, Japan's prime minister in his book 'Towards a Beautiful Country: My vision for Japan', mentioned," It would not be a surprise if, in another 10 years, Japan-India relations overtake Japan-US and Japan-China relations ". The two prime ministers time and again reaffirmed the importance of defence relations between India and Japan in their strategic partnership and tried to strengthen it. Both the countries have signed a memorandum of cooperation and exchanges in the field of defence specifically affirming the importance towards the regularization of bilateral maritime exercises and Japan's continued participation in the India – US Malabar exercise. India and Japan's defense forces organized a series of comprehensive bilateral exercises Like JIMEX ( naval), Dharma Guardian(Army), and Shinyuu Maitri ( airforce). India during the late Prime Minister Shinzo Abe's tenure has also expanded and further strengthened its economic relations with Japan. The trade ties between the two countries increased unprecedentedly in the past 5-6 years and Japan is now India's 12th largest trading partner. In the year 2007, Prime Minister Shinzo Abe first visited India and addressed the parliament where he mentioned his famous " confluence of the two seas" speech which became the benchmark to the foundation of Indo-Pacific Ties. The concept of the Indo- Pacific was paved by Abe and he also founded the Quadrilateral security dialogue QUAD in which India, Australia, US and Japan are part, and has now become a key factor in India-Japan relations.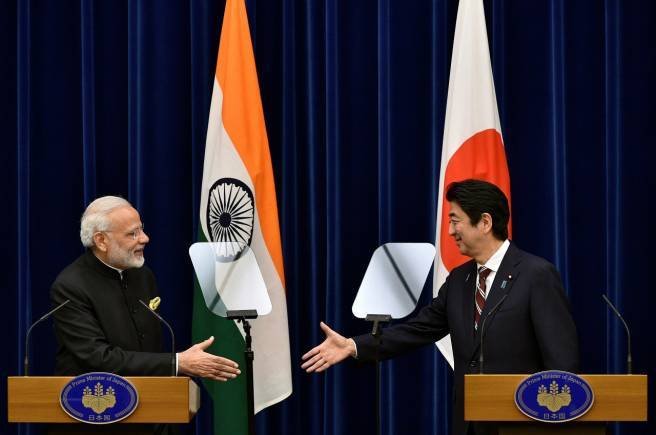 Abe has played an unprecedented role in strengthening the bilateral relations between India and Japan. He attached special importance to India-Japan relations even before he assumed the Prime Ministerial office. According to sources, Abe spent his childhood with his grandfather Kishi Nobusuke, who considered India in high esteem as he was treated with honour, respect and hospitality when he first visited India in 1957. Prime minister Abe perhaps had tried to maintain the legacy of
His late grandfather by maintaining a healthy tie between the two countries. In 2021 Prime Minister Shinzo Abe was honoured with the Padma Vibhushan award, India's second-largest civilian award, by the Indian government. He has left behind a fundamental legacy for the Japanese future leaders and the world.
The views and opinions expressed in this article are those of the author and do not necessarily reflect the views of The Kootneeti Team