ASEAN's effort to resolve the biggest human right violation coup of Myanmar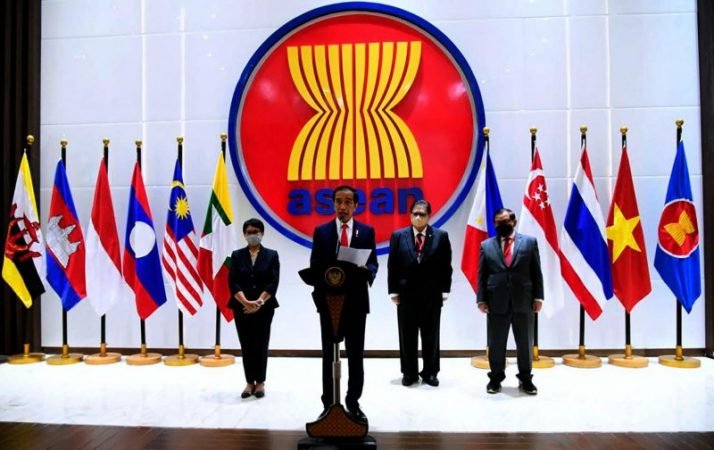 Myanmar, a member of the ten nations association, called ASEAN, is currently facing a military coup prompting the people of Myanmar to defend their democratic rights. Since the coup, violent protests and murders have occurred in Myanmar, an Asian country that has left loads of protesters lifeless. On the 24th of April, an emergency summit took place in Jakarta, Indonesia, between Myanmar's top general and coup leader Min Aung Hlaing and the six heads of the country and three overseas ministers representing ASEAN. The Southeast Asian Leaders demanded a direct finish to killings, and therefore the unleash of the political detainees in the Asian nation, Myanmar.
All ASEAN members decided to please Min Aung Hlaing, but they could no longer deal with him as Myanmar's leader at the summit, the Southeast Asian diplomat said. Critics argue that ASEAN's decision to appease him is immoral since it legitimises the overthrow and subsequent lethal crackdown. Daily shootings between police and squaddies have resulted in more deaths.
"The situation in Myanmar is intolerable and should not continue," said Indonesian President Joko Widodo. Myanmar's violence must be stopped, and democracy, stability, and peace must be restored as soon as possible." He went on to say that the people of Myanmar must always come first. ASEAN leaders were extensively criticised for inviting to their assembly the person answerable for overthrowing the elected authorities in Myanmar and for unleashing savage violence on the ones against his coup. They may also argue that it is now well worth it because Min Aung Hlaing has formed the talks of concluding declaration calling for an end to the violence by attending the conference. To ensure the safety of the meetings, more than 4,300 police officers have been sent to the Indonesian capital. These meetings were held during the pandemic with strict protective measures. In Southeast Asia, Indonesia had the largest number of Covid-19 infections and deaths.
The diversity of ASEAN, including its members' diversified relations with China or the United States, and the basic policy of non-interference in other countries internal affairs and consensus-based decision-making, have hindered the EU's ability to deal with crises quickly
Meanwhile, Singapore's Prime Minister Lee Hsien Loong also has urged the military to release Myanmar's deposed President Win Myint and democracy icon Aung San Suu Kyi, who is detained.
To address the crisis, ASEAN issued a five-point resolution that called for "constructive dialogues." ASEAN also announced that it would provide humanitarian aid and that the special envoy and delegation would travel to Myanmar to meet with all parties concerned.
Amnesty International has called for an investigation into Min Aung Hlaing based on "credible claims of accountability for crimes against humanity in Myanmar" by Indonesia and other ASEAN countries. It is said that as a signatory to the Inter-American Convention against Torture, Indonesia is legally obliged to prosecute or extradite alleged perpetrators in its territory.
The views and opinions expressed in this article are those of the author and do not necessarily reflect the views of The Kootneeti Team