India, Sri Lanka and Maldives inaugurate a trilateral secretariat base in Sri Lanka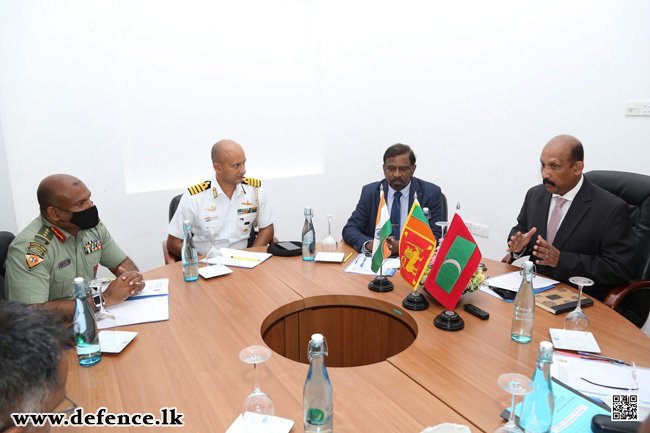 A trilateral permanent Secretariat base has been established on 1 March 2021 in Sri Lanka with the initiative and cooperation coming from India and Maldives. The trio recognised the importance of the forum for promoting cooperation and intelligence sharing in the Indian Ocean region and aimed to mettle out common adversaries such as terrorism, maritime pollution, piracy, oil spills and foreign aggression. The Sri Lankan Defence Ministry propagated that this development is the outcome of a previous initiative accomplished on strengthening maritime security cooperation with India and Maldives.
Last year in November 2020, Indian National Security Advisor Ajit Doval initiated an in-person 4th trilateral meeting in Colombo with the NSA of Sri Lanka and Maldives. The officials gave their assent to underscore maritime security and dialogue and to co-operate on common issues such as terrorism, radicalism, extremism, drugs, arms and human trafficking and cybersecurity. The first NSA level trilateral meeting was held in Male in 2011 followed by 2nd in Colombo in 2013,3rd in New Delhi in 2014 and again in 2020, Colombo inaugurated the 4th trilateral meet.
During the latest event foreign secretary of Sri Lanka, Admiral Professor Colombadge expressed his concern on the immeasurable importance of the Indian Ocean region. "The entire world is benefited with this initiative as the Indian Ocean is the lifeline of the entire world," said Colombadge Last month Indian External Affairs Minister S Jaishankar made a visit to the Maldives and cemented a robust relationship when he extended a 50 million $ Line of Credit to strengthen Male's maritime capabilities.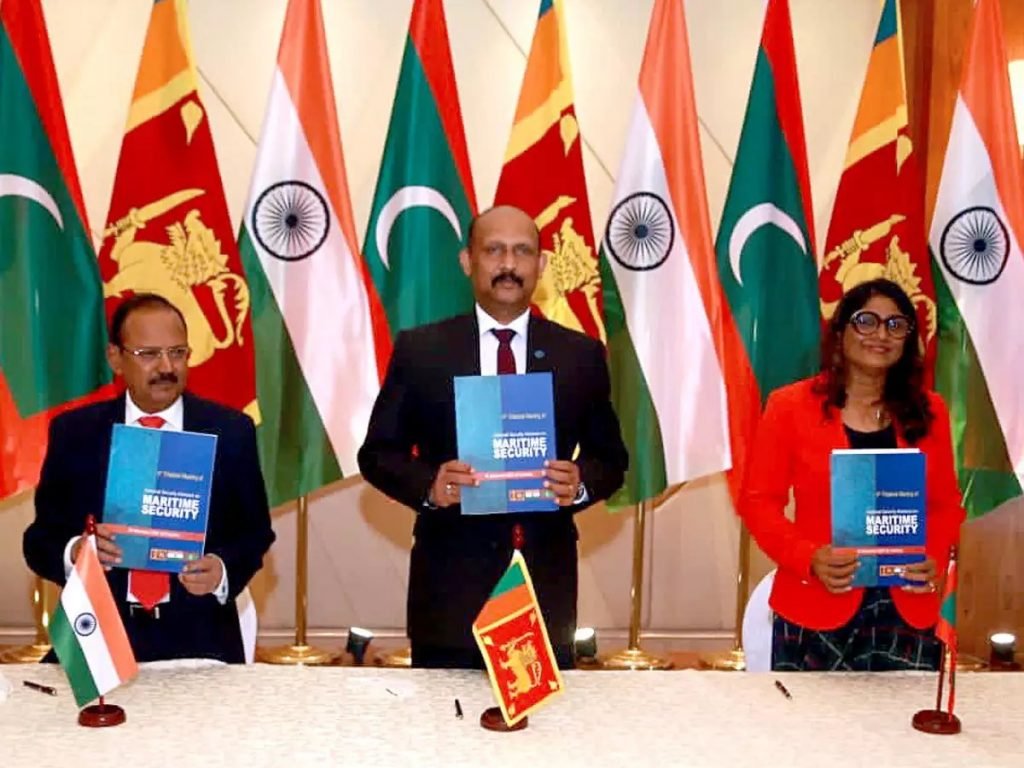 India has always given its topmost priority to its maritime partners and maritime diplomacy has been part and parcel of India's Neighbourhood First Policy. On 2nd March 2021 PM Modi will be inaugurating the Maritime India Summit 2021 with a humongous 400 MOUs worth 3 lakh crore. India has gingerly and strategically focused on developing Chabahar port and recently it has supplied 2 cranes for the port to Iran. Strengthening its Look East Act East Policy, India has also aligned with Myanmar in building Kaladan Multimodal project."Sittwe port has been built. Using the Kaladan river we will connect Mizoram to Sittwe port. Road work is ongoing, port work has been completed. Port is operationalised. In presence of PM, we could inaugurate the port soon," Indian Minister of State for Ports and Shipping Mansukh Mandaviya mentioned.
The global community is cognizant of the fact that the Indian Ocean offers massive leverage in terms of trade, maritime security, energy resources, fisheries etc. It offers a valuable destination to India's strategic relationships and acts as a buffer zone against any foreign encroachment. The stability and prosperity of the world are tied with that of the stability and prosperity of the Indian Ocean region. In 2015 PM Modi stated in his speech in Mauritius-"The Indian Ocean Region is at the top of our policy priorities".
Chinese illegal dominance in the South China Sea and increasing encroachment in the Indian Ocean region, especially at the Strait of Malacca has cautioned the neighbouring countries. Chinese involvement in Hambantota port, Gwadar port encircles India in the Indian Ocean region and poses grave challenges to the neutrality and rule of law in the oceanic region. Hence a plethora of nations is bandwagoning with India to protect the liberty of the Indian ocean and eradicate the possible threats to peace and prosperity. The recent initiative by India, Sri Lanka and the Maldives resemble a positive step for the feasibility of a rule-based Indian ocean region.
The views and opinions expressed in this article are those of the author and do not necessarily reflect the views of The Kootneeti Team