India-Australia MLEA and Opportunity for India in South Pacific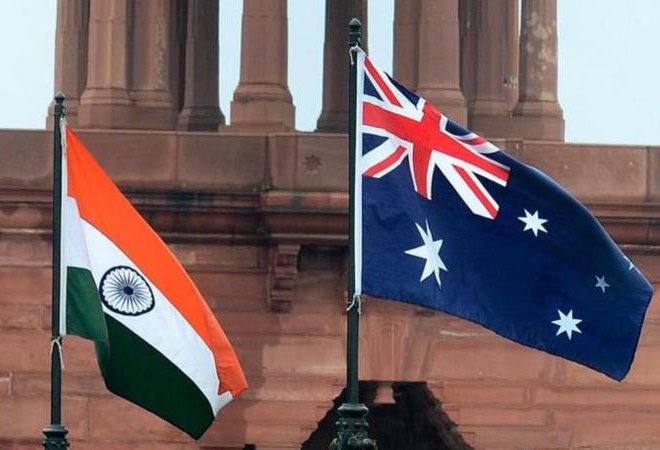 India signed a Mutual logistic exchange agreement (MLEA) with Australia. The talks have been going on for the last few years. In 2019, both countries had announced to sign an agreement. And on 4th June 2020, India-Australia signed seven agreements over first Virtual summit. Under the MLEA both countries can accesses each other's military bases and port facilities for logistic support, refuelling, food, water and maintenance of Aircraft and Naval ships facilities.
India-Australia have a common and shared vision of free, Open Inclusive, Rule-based and to ensure the security of the Indo-Pacific region. Both countries are committed to mutual co-operation in the region. MLEA is a significant agreement to both countries to increase naval activities for the contribution and enhancement of peace and security in Indo-Pacific. India also signed similar agreements with USA, France, Singapore, and South Korea which will able to enhance India's naval presence in the Indo-Pacific region.    
Benefits of MLEA
The MLEA will help India to reach Indian naval warships in the Southern Indian Ocean region (IOR) as well as in the western pacific region vis-a-vis Australia. It will increase technical interoperability between the two countries. In the year 2019, India and Australia conducted a bilateral maritime exercise called 'AUSINDEX'. Such maritime exercises improve interoperability and co-operation between the forces. It improves synergy to combat common traditional maritime threats such as piracy, trafficking etc.
Logistic support also saves time and money in the operations and in missions. It strengthens mutual co-operation and contribution in overseas missions. The MLEA will be beneficial to both countries to conduct more naval missions and exercise to secure the Indo-Pacific region.
The advantage with QUAD / Naval Exercises
The quadrilateral security group is also known as 'QUAD' is an 'Informal' group includes the US, Japan, India, and Australia. The initiative to formed QUAD taken by Japanese Prime Minister Shinjo Abe in 2007. Later on, it revived in 2017. The QUAD has a strategic objective to maintain strategic balance in Indo-Pacific. It also seems as an anti-China alliance to contain China in Indo-Pacific.
India, Japan, USA conducts Malabar trilateral Naval exercise. In the upcoming years, Australia could be a part of Malabar naval exercise. India has signed Logistic exchange memorandum of agreement (LEMOA) with USA in 2016 which is India's specific variant similar to MLEA.
India also looking to sign a similar agreement with Japan in upcoming times. And by doing this, India would be able to sign MLEA with all QUAD members for better naval interoperability and co-operation in Indo-Pacific. It will increase the operational capabilities of all QUAD members in Indo-Pacific to fulfil the strategic vision.        
China's presence in the South Pacific
The increasing presence of extra-regional power in IOR, with special reference to China, is a maritime concern for India. India and Australia both have common concern over China's increasing presence in the Indian Ocean region (IOR) and in South Pacific respectively. China's economic investment in South Pacific Island nations, the Republic of Panama and in Latin American countries is a concern for both Australia and USA.
It's a shared security challenge for both countries. Apart from that, China also politically engaged in South Pacific island countries. China expanded politically and militarily in the Pacific Islands in the 1980s. There have been recent reports of China trying to acquire a base in Vanuatu, although it's denied by both sides. China's involvement in the Pacific Island countries, including visits by the Chinese navy is noticeable. China also enhancing warm Political, Cultural, and diplomatic military ties with Latin American countries.
The same case with the African continent, As China has taken initiative in maritime silk route project and infrastructure development project in IOR and the African continent, the Chinese Naval presence gradually increased in the region. China's economic and political involvement in Latin American states will further increase its naval footprints in the South Pacific region. Thus, Presence of Chinese naval ships in the region will be a concern for Australia and the USA.
Opportunity for India to extend its presence in South Pacific
Due to Geographical limitations, Latin American states particularly 'Western South American continental Countries' (Western Latin American) are not actively involved in the overall discourse of Indo-Pacific. But these are the littoral countries of the Pacific Ocean. They are sharing Common Ocean, India and Australia both are perceiving Inclusive posture in Indo-Pacific; thus it's important to bring the Western coast of South American countries in the overall discourse of Indo-pacific.
India has the opportunity to extend its presence in South Pacific and up-to-the Western Latin American countries by a joint venture with the Australian navy. The piracy and trafficking issues are prominent on the Western Latin American coast. India and Australia can combat such threats together. Thus, India and Australia can think for the mission-based deployment of their ships in the South Pacific region.
The MLEA agreement will ensure and accommodate logistic facilities to Indian Naval ships on Australian naval bases. Which will help India to keep a presence in the South Pacific region for a longer period. But the issue is, As per Indian maritime strategy, 2015, South Pacific island region which is also known as 'Oceania' and southern part of Latin American countries are 'Secondary area of interest' for the Indian navy. And that's why it puts a limitation to deploy naval ships for missions in the South Pacific and Latin American region. But hope, India would be able to overcome this issue over the period of time.     
The mission-based deployment will also help to monitor Chinese naval activities in South Pacific. India has established Forum for India-Pacific Island Co-operation (FIPIC) in November 2014. To enhance Co-operation with South Pacific island states is a part of India's foreign policy. India has a chance to extend it up-to maritime diplomacy and increase it further. In this regards, India could initiate with Australia for a joint venture in South Pacific to enhance co-operation with south pacific island states, secondly, to monitor China or to limit China's involvement, and last but not the least to include Latin American countries to be an active part of Indo-Pacific discourse for security and growth of the region.
The views and opinions expressed in this article are those of the author and do not necessarily reflect the views of The Kootneeti Team